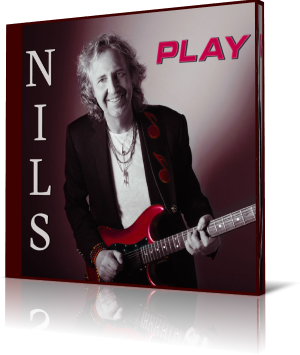 German born jazz guitarist Nils has found the way to the hearts of the smooth jazz audience with albums like Pacific Coast Highway (2005), Ready To Play (2007), Up Close And Personal (2009), What The Funk (2010), City Groove (2012), and Alley Cat (2015). His new album Play (2018) is the next stunning bringer of groove.
Besides his longtime core band of Clydene Jackson (keyboards, vocals), percussionist Oliver C. Brown and bassist Darryl Williams are joining this project drummers Gorden Campbell, Tony Moore and Eric Valentine, pianists Gail Jhonson and Mitchel Forman, bassist Roberto Vally, keyboardists Philippe Saisse and Nate Harasim and saxophonists Steve Cole (solo), Brandon Willis (solo), Charley Langer (horn section) and Mike Parlett (horn section). Finally Johnny Britt adds vocals, keys, Rhodes, trumpet and horns to selected tracks.
The starting Coast To Coast conjures up the fantastic mood of a ride along the coast with its multitude of vivid impressions reflected in Nile's guitar riffs. The song We Got Love was released in 2015 by Babyface as part of his album Return of the Tender Lover titled in reference to his second solo album Tender Lover. Nils perfectly captures in his rendition the rollicking vibes of the original.
Straight Down the Line is certainly an energetic guitar tune, but Johnny Britt delivers the pepper in the soup with his powerful horn textures. The title Sway appropriately describes the groovy, wavering and shuffle-like style of this piece. Here, too, Johnny Britt gets right to the heart with his muted trumpet and the vocal exclamation point.
Keyboardist Nate Harasim is one of the rising producer stars in the smooth jazz genre. His collaboration with Nils on Play It shows that little something magical extra that grows beyond the average production. Goldfinger should not be confused with the theme for the well-known James Bond movie. Rather, it is a prime example of the wealth of variants which Nils has to offer on his various guitars entangled in wonderful harmonies.
California features sax player Steve Cole in a well arranged horn focused tune. So Get On Up steps in another groove of unadulterated R&B and funk in Motown tradition. Careless Whisper, a song by George Michael released in 1984, is one of the most covered hits. Nils glows with the warmth and keenness of the original in harmonically sounding guitar music.
Off To The Races has a special Nile Rodgers flow growing with a funky attitude. Voices in the Dark has a unique feature in the context of this album, because it falls more in the field of esoteric New Age with its soulful tone sequence. The final Fire of My Heart evolves from an ambient guitar piece to a touching vocal ballad with high addictive value.
Let's not fool ourselves. If we listen to a new album, we want to hear music that takes us into realms that inflame our acoustic senses. With his album Play, Nils has exactly set those impulses that make it a lasting memory.