| | |
| --- | --- |
| Archive | |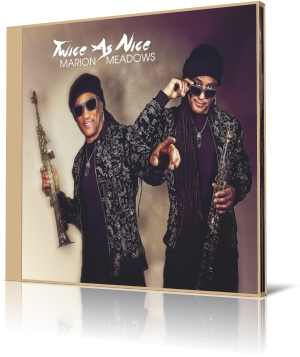 Whoever knows saxophonist Marion Meadows, is aware of the fact that he is a multi-faceted personality with manifold talents. His skills are not limited to music, rather he is also an excellent photographer, a blessed painter and designer. As in the field of visual arts, as a musician he strives for the greatness that makes him a dazzling celebrity for everyone.

As part of his musical career, this year we already welcome his 16th album Twice As Nice, which will be released on the label Shanachie Entertainment in April 2021. He relates this title to the great gift of having grown up with two sympathetic siblings, Otha and Barbara. Equally applicable is the title to his exuberant creativity in both music and the performing arts.

Fortunately, Marion did not fall into depression during the pandemic, but used it as a creative opportunity, a chance for self-contemplation and self-discovery. So again something has been shaped that his fans expect from each of his projects, an aura of atmospheric uniqueness. The starting tune On The Uptown was created in Paul Brown's The Funky Joint, the ultimate hit forge, with the participation of bassist Roberto Vally, keyboardist Leon Bisquera and trumpeter Joey Sommerville. With an abundance of finest harmony Marion and these fine musicians set standards of ultrasonic flow.

You need only a few bars, to recognize the musical signature of Jeff Lorber. Lunchbox is his package of goodies like keyboards, guitar and especially synth bass. The whole thing is underlined by David Mann's horn arrangement, who has been making a name for himself in this field for quite some time. Pandora is in the Greek Mythology the epitome of evil, from whose box all harm comes to mankind. In contrast, this song is rather the opposite, because it spreads pure joy.

The intro of Step To This reminds me of Brother Johnson's Strawberry Letter 23, which is a nice flashback. The lovely Yesterday Is Gone features singer Donnelly Smallwood, who already worked with Phil Perry and Gerald Albright. The title song Twice As Nice rightly bears this title, because its message comes across unmistakably and precisely accentuated. One mystery is the flute as the lead instrument, which is not listed in the credits.

I Can't Make You Love Me is a song written by Mike Reid and Allen Shamblin and recorded by Bonnie Raitt for her album Luck of the Draw (1991). The emotional potential of one-sided love deeply motivated Marion to record his interpretation. Like a Kaleidoscope, Marion's piece offers a multi-layered sequence of sounds that changes at every turn. The somewhat Spanish-tinged is ushered in by guitarist Steve Oliver, who also throws in his vocals.

Don't Wait Up evokes a trance by the rhythmically pulsating repetition of a sequence of notes reminiscent of the movement of a snake charmer. When referring to the impact of rain, the first thing that comes to mind is its calming effect due to the even fall of the drops. With his final The Trill Of Rain, Marion tonalizes and emphasizes the difference of the fall of the raindrops.

Marion Meadows, as always, brings his extraordinary personality to the album Twice As Nice. In this project, one does not encounter fashionable sound sequences or often-heard music, but rather sounds that have been shaped with great passion and expertise.




Buy the album in all stores

Album Information

Title: Twice As Nice
Artist: Marion Meadows
Year: 2021
Genre: Smooth Jazz
Label: Shanachie Entertainment

Tracks:

1) On The Uptown (4:01)
2) Lunchbox (4:03)
3) Pandora featuring Paul Brown (4:18)
4) Step To This (4:11)
5) Yesterday Is Gone (3:56)
6) Twice As Nice (3:54)
7) I Can't Make You Love Me (5:31)
8) Kaleidoscope featuring Steve Oliver (4:33)
9) Don't Wait Up (3:56)
10) The Thrill Of Rain (3:59)




Further reviews:


Dressed To Chill

Secrets

Player's Club

Whisper