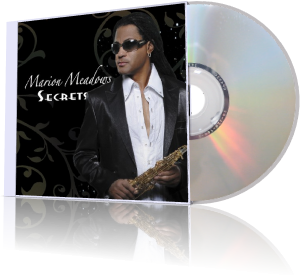 Womanizer Marion Meadows makes his Secrets public. Looking back on a formidable list of previous releases like For Lovers Only (1990), Keep It Right Here (1992), Forbidden Fruit (1994), Body Rhythm (1995), Pleasure (1997), Another Side of Midnight (1999), Next To You (2000), In Deep (2002), Player's Club (2004) and Dressed To Chill (2006), Secrets (2009) is his fifth album on Heads Up International. Marion Meadows continues his joint venture with keyboardist/producer Michael Broening, with whom he already co-operated on his previous three albums.
"I've been involved in a lot of projects, both my own and group efforts," says Meadows, "and my main objective is to keep growing as an artist and engage the fans who have invested so much emotion in my music and my career. Aside from that wonderful sense of live communication, the real magic for me happens in the studio when I put on those headphones and start playing. That's where the ideas just start to flow. Everything else in my musical life comes out of that moment."
Besides Michael Broening (keys) join Mel Brown (bass), Freddie Fox (guitar), and Michael White (drums) Marion's new project. Furthermore Marion incorporate some musicians he plays with on his live performances. Marion explains: "Contemporary jazz artists can get a little caught up in the more stylish side of the recording process, with computers and drum machines and other cutting-edge technology. For as good as all that stuff can sound, there's an organic element that gets lost. If you move too far in that direction, I think people start to take musicians in this genre – and the genre in general – less seriously as a result."

This idea in mind Marion introduces his new project with Secrets. A mellow tune like the warm wind of Spring. "Secrets are things that are kept hidden beneath the surface of our own intellect, our own decision-making," he comments. "They're these treasures that are often right in front of our eyes and yet we don't even see them or know they're there."
Let The Top Down continues on this unobtrusive but nevertheless captivating level. You Lift My Heart is without no doubt the outstanding song of this album featuring lead vocalist Charlie Karp. "Charlie is a vocalist who comes from the old school," says Meadows. "He's originally a rock singer, but he sings a more spiritual type ballad here alongside a jazz saxophone. This is the kind of track that makes this record – like all my records – an eclectic experience." Most of you will know Charlie as lead singer of the projects Dirty Angels, Buddy Miles Band, White Chocolate, Meatloaf and more.

Soul Sugar precisely kicks Marion's message into your heart. These are sweets four soul and ears. Michael Broening frames Marion's sax play in the best manner. Get your overdub today.
On the mild ballade The Child In Me Marion looks back into his childhood. He began learning the clarinet at the age of eight, studying classical music, but eventually found jazz after being moved by Duke Ellington. Music was in the air everywhere.
Sand Dancers is dominated by the percussion work provided by Orly Penate and Tony Verdejo who also have written this tune. The exotic Samba rhythm, great electric piano and an appealing humming is the perfect background for Marion's journey into Brazilian realms.
Playtime is featuring writer and multi-instrumentalist Will Brock. He graduated from the University of the Arts with a Bachelors degree in Jazz piano. That experience gave him a fundamental understanding of music on a pretty high level. Now it's the time for practice and fun.
The romantic ballade Flirt offers the well-established group around Marion Meadows in a soft melody. Vocal virtuoso Bobby McFerrin wrote Friends for his underrated album Bang!Zoom (1995), a co-operation with the group Yellowjackets. Brian Chartrand is the singer on Marion's cover. Vocally, Chartrand sounds like a cross between Dave Matthews and Radiohead's Thom Yorke (Niki D'Andrea).
Urban Angels features vocalist Philip Hamilton in duet with Marion Meadows. Called "an unusually energetic and inventive vocalist..." by the Washington Post, Hamilton was a founding member and co-composer of the group Full Circle, which released three albums on Sony/Columbia Records. The song is on the path of Pat Metheny, which means an indisputable unthankful task for Philip.

The Shade Tree is written and performed by Sean Thomas and Johnny Britt, who are known by their project Impromp2. These soul singers are opening new directions on Marion's album, a surprising pleasure. Marion Meadows goes Pat Metheny. Incredible but truth. Marion finishes his album with Here To Stay, one of Pat's brilliant and mesmerizing songs. Sometimes it needs stuff like this to showcase Marion's skills in whole scale. Also featured Jay Rowe (piano solo) and Perry Hughes (guitar solo).
Secrets underlines Marion's impetus to go out of the smooth jazz genre for a new experience. Marion comments: "It's a fresh new experience for the fans who buy it. They're saying, 'What's this thing going to sound like?' For them, it's still a secret. It's something that has yet to be discovered and explored."

Bio


Marion Meadows' website


Label info



Further reviews


CD available
in


Title: Secrets
Artist: Marion Meadows
Year: 2009
Length: 0:59:23
Genre: General Jazz
Label: Heads Up International


Tracks:

01 Secrets [4:18]
02 Let The Top Down [4:03]
03 You Lift My Heart [5:54]
04 Soul Sugar [4:03]
05 The Child In Me [4:07]
06 Sand Dancers [4:53]
07 Playtime [5:06]
08 Flirt [4:21]
09 Friends [4:55]
10 Urban Angels [5:14]
11 The Shade Tree [5:58]
12 Here To Stay [6:32]