| | |
| --- | --- |
| Archive | |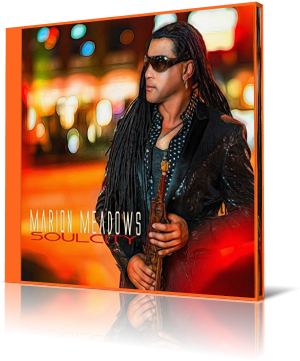 Marion Meadows understands it perfectly to put himself in the limelight.

So that the light does not blind him, you can see him on many of his covers with sunglasses. This underlines the aura of mystery, created and wisely cultivated by him. Musician friends and fans know him however as a sociable person who likes to have a small talk.

Keeping soul in mind his new album is titled Soul City (2018). Marion performs on this album mostly soprano sax, on several tracks tenor sax. He reached out to two familiar producers and keyboardists, who designed the album with him. We talk about Chris Big Dog Davis and Rahni Song.

Marion also invited prolific guest musicians such as Will Gaines, Julio Hernandez (bass), Norman Brown, Peter White, Rohn Lawrence, Wayne Gerard, Kaimi Hananoeau (guitar), Joey Sommerville (trumpet), Maysa, Peabo Bryson, Kim Fleming, Will Downing, Dana Lauren (vocals), Maria Meadows, The Super Choir of Atlanta, Timmy Maia (bg. vocals), Roberto Vazquez (piano), Orlando Hernandez (drums, percussion), Jeff Bradshaw (trombone), Jorel "Jfly" Flynn (drums), Justin Gilbert (keyboards), Nicole Neely String Chicks Music LLC (strings), Bob Baldwin (string edits), Niger Troutman (Timpani).

Meadows glows with enthusiasm on the starting Soul City. The attractive effect is based on a thoughtful arrangement that is refined and aimed at emotional effects. Meadows knows the impression of his instrument and is able to use it skillfully. The intro is reminiscent of George Duke's Genesis with this multifaceted orchestral construction. Joey Sommerville aptly fits into the tune with his magic muted trumpet.

The Latin flavored Dreamin pairs glamorous vocalist Maysa with Marion's soothing sax and Peter White's lingering guitar. You presents Denver, Colorado based Will Gaines in a double feature as vocalist and bassist. Jeff Bradshaw on trombone hypes the piece to a higher level. Merry Go Round presents singer extraordinaire Latrese Bush whose vocal potential in this R&B piece is far from exhausted.

A vocal highlight of the album is the interpretation of Cyndi Lauper's song Time After Time. In a stroke of genius Marion combines the sonant jewel Peabo Bryson with The Super Choir of Atlanta underlined by strings. On Consequences Chris Big Dog Davis lays down a solid groove, strong enough to transport Marion into orbit. With a sneaky funky motion vocalist Kim Fleming arrives on Be With You while Marion smokes again the intervals.

When a world star like Will Downing appears on Samba De Playa, one awaits a chanteur in the main role, but Will and Marion share the melody fraternally in the service of a magical mood. "She don't push, don't pretend. She feels like a natural singer", said Arturo Sandoval about Dana Lauren. No Wind, No Rain is her piece written by Davis and Meadows. It's amazing what you can create for atmospheric rhythmic processes today. On Only Rahni Song reveals his artistry and Meadows fascinates with his redeeming talent.

Marion Meadows occupies a special position in smooth jazz due to his exquisite and atmospheric compositions. Soul City is another album with carefully arranged visionary melodies evoking emotions of lasting power.




Buy the album in all stores

Album Information

Title: Soul City
Artist: Marion Meadows
Year: 2018
Genre: Smooth Jazz
Label: Shanachie Entertainment

Tracks:

1 Soul City (feat. Norman Brown & Joey Sommerville) 3:50
2 Dreamin (feat. Maysa & Peter White) 3:56
3 You (feat. Will Gaines) 4:42
4 Merry Go Round (feat. Latresh Bush) 3:34
5 Time After Time (feat. Peabo Bryson) 5:28
6 Consequences 3:56
7 Be With You (feat. Kim Flemming) 5:28
8 Samba De Playa (feat. Will Downing) 4:49
9 No Wind, No Rain (feat. Dana Lauren) 4:06
10 Only (feat. Kaimi Hananoeau) 6:21



Further reviews:

Dressed To Chill

Secrets

Player's Club

Whisper