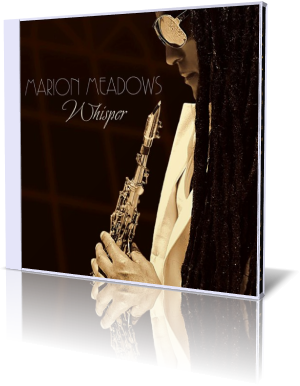 Marion Meadows can look back on an eventful past. As a young musician he had not even dream it, to become a member of Norman Connors band and be signed by Bob James' label. It took a bit to his own solo career. But twenty years later he can for sure describe himself as a staple of the smooth jazz format with recordings such as Keep It Right Here (1993), Forbidden Fruit (1994), Body Rhythm (1996), Another Side Of Midnight (1999), Next To You (2000), In Deep (2002), Players Club (2004), Dressed To Chill (2006), and Secrets (2009).
His newest project is called Whisper and is scheduled for release on March 26, 2013. Meadows produced Whisper along with Carlos Pennisi, Bob Baldwin, Rahni Song and long-time collaborator Michael Broening. In full awareness that the first piece is the calling card of a musician, he worked together with Broening The Visitor. A tune full of Oriental exoticism with the allure of mystery.
The title song is a cheerful melody, which reaches a larger group of listeners with a simple sound sequence. The elaborate arrangement satisfy even jazz fans. As first single of this album is chosen Black Pearl, which was co-produced by keyboardist Carlos Pennisi. The orchestral support is comparable with Whisper.
Main instrument on most tracks is Marion's soprano sax, but on Timeless acoustic guitar and Julian Davis' harmonica are sharing the lead. Marion Meadows gives high priority in the groove like on Curves. Everything is in flux. Marion's enchanting melodies win due to his sensible interpretation like on Magic Life.
He changes however also to other styles such as urban jazz on Bottoms Up featuring keyboardist Bob Baldwin and flutist Ragan Whiteside. With Golden Curtain he allows a direct comparison to the equally popular flutist Althea Rene. With Dave Valentine's Marcosinho composed by Dave Grusin Meadows underlines his deep connection to his musical origins. Embedded in a horn arrangement comes Sky Dive in a fashionable jazzy way.
The funky Wild Thing invites to the dance floor. Come on, let's party! Marion designed the final with his musical friend Bob Baldwin on Turn Up The Quiet. Restrained in the presentation with an understated elegance the doyens show up.
Meadows extraordinary experience is evident on his new album Whisper. It's great fun to go with him on a discovery tour.