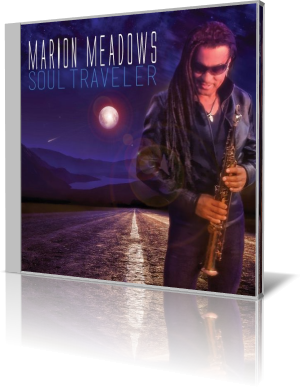 Marion Meadows is surrounded by an aura of mystery. His style is unmistakable and distinguishes him from other saxophonists of his profession. After Whisper (2013) is Soul Traveler (2015) his second album for Shanachie Entertainment.
The album is co-produced by Marion's long time collaborator Carlo Panisi, who also produced Marion's album, Whisper. The album is featuring guest performances by Najee, Joey Sommerville, Vincent Ingala, Elan Trotman, Ragan Whiteside, Chip Shearin, Will Gaines, Mel Brown, Lamar Gaines, and more.
Starter of the album is the exotic Celebration Road featuring Najee on magical flute. The song is picturesquely, atmospheric and invites you to dream. On Magic Men Meadows shares the sax play with Elan Trotman. While Meadows takes the smooth part, Elan is responsible for the energetic overdub and a solo excursion.
Andalusian Sunset offers acoustic guitar in Spanish style more as we know it from Peter White than in classical Arabic approach. Soul Traveler lets endure the dreamy mood in this instrumental configuration. From another planet, however, is the title Humanity. Brisk rhythm, groovy keyboard chords and a dynamic capped Meadows.
With Invisible he returns to the romantic feeling, which really fits to the warm tuning of his saxophone. Mother Earth features rapper Toni "TB" Bias. The listener has to decide if this song element is desirable. Dark Beauty presents a mesmerizing piano solo of the rather unknown talent Lamar Gaines. Joey Summerville & Kyle Turner are guest musicians on the airy Life In The Clouds.
Dream Catcher is another exponent of Meadows' sultry soprano sax style, one can safely allocate to the romance. Last summer Vincent Ingala toured with Meadows and Paul Taylor as 'Sax & The City.' Now he has his debut on the savory Real Time. Last Ticket To Somewhere closes seamlessly into the overall picture of what is heard. Guitar and sax form a pleasing unit.
Marion Meadows has found his style. Now he will not be able to free himself for the rest of his life. His fans are celebrating Soul Traveler.



Biography

Album Information

1. Celebration Road
2. Magic Men
3. Andalusian Sunset
4. Soul Traveler
5. Humanity
6. Invisible
7. Mother Earth
8. Dark Beauty
9. Life In The Clouds
10. Dream Catcher
11. Real Time
12. Last Ticket To Somewhere


Further reviews:

Dressed To Chill

Secrets

Player's Club

Whisper