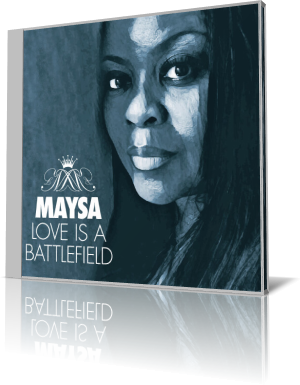 The critics are raving, the audience is captivated. Everything Maysa is touching with her voice turns to gold. She is the undisputed queen of soul, R&B, acid jazz and all that genres she comes in contact with.
Her new album Love Is A Battlefield revolves around the topic love like many of her previous projects. Therefore, it is not a coincidence that the starting track has the title The Things We Do For Love. With the enchanting love ballade she echoes her unrequited emotive affection. Producers Chris "Big Dog" Davis has perfectly captured the magic moment of ultimate sweetness.
Can We Talk is a song recorded by R&B singer Tevin Campbell and composed and produced by Babyface. Maysa changes the persons in the lyrics to give the song more sense. When she intonates her truly rewarding vocals, the sun stands still shining right on your place. The million-selling sound explosion Love Is a Battlefield by Pat Benatar is up-tempo and rebelliously minded. Maysa slows down the song to a spiritual content, and the ability to involve the listener in an intense dialogue.
Because It's Really Love is a song from the platinum awarded album Give Me The Reason by Luther Vandross. At that time, Jason Miles played synthesizer on this album. Maysa has worked with Jason on several occasions especially for his project Soul Summit and the Grover Washington album. Jason performs on this rendition keyboards and percussion, produced and arranged the tune. He is very thankful for the opportunity to revisit history and to be anew part of a great song.
If you don't know Jesse Rae, I recommend to have a glimpse at that rare footage on YouTube, to catch the crazy atmosphere of the 80's. Inside Out is a wonderful come back to that time, when clubs were called disco. Play it loud and play it often. The Aretha Franklin inspired Inseparable was the debut hit of vocal legend Nathalie Cole, the daughter of Nat King Cole. Maysa harmonizes a classic with great respect to the original and still gives the melody her own touch.
Maysa sings Justin Bieber. Unbelievable? No, it works. As Long As You Love Me provides the evidence. A perfect arrangement, stunning harmonies and Maysa's voice is more than enough to justify this concept. Footsteps In the Dark is a collaboration between Mays and Jamie Jones, member of the group All-4-One. The Isley Brothers' have released this song during their platinum period in 1977. Timbre and vocal colors are very close to the original.
Am I Dreaming, a love ode of Atlantic Star from their album Radiant (1981), is for Maysa the perfect template with depth and subtle nuances. Mr. Dream Merchant was originally released by Jerry Butler in 1967. No one else than Maysa can recharge the warmth of this ancient gem.
Maysa is embracing the sound and impact of olden times with Love Is A Battlefield. Every song has its special place as part of music history standing the test of time. The renditions are not only recognizable but have superbly gone a refining process of specific Maysa art.