Maysa - Metamorphosis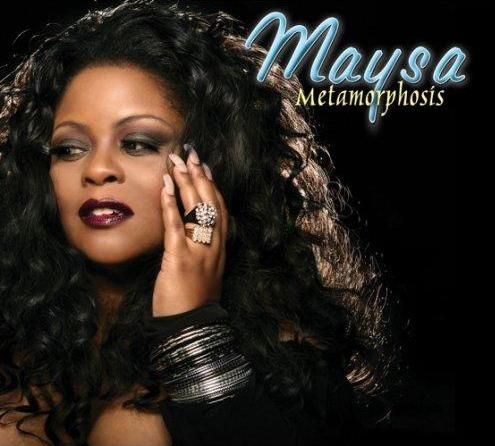 Maysa's first step in music business was as a vocalist for Stevie Wonder's band Wonderlove. Her breakthrough came as lead-vocalist of the British Jazz-Funk band Incognito. Since 1991 she is integral part of this group and has strongly influenced the band's vocal style. Her first album with Incognito was Tribes, Vibes and Scribes (1992).
She also collaborated with Rick Braun, Will Downing, Jason Miles' Soul Summit, Rhythm Logic, Jonathan Butler, U-NAM and Pieces of a Dream. And has been produced by George Duke, Rex Rideout, Mike White, Chris "Big Dog" Davis, Jean-Paul "Bluey" Maunick of Incognito, Richard Bull (Acoustic Alchemy) and many more.
Maysa started her solo career with the album Maysa (1995), followed by All My Life (2000), Out Of The Blue (2002), Smooth Sailing (2004), Sweet Classic Soul (2006), Feel The Fire (2007) and now Metamorphosis (2008). Maysa explains the title. "I am changing, re-arranging, my mind, body and soul, growing better, feeling stronger .. slowly, but surely my metamorphosis has begun."
This insight of her psychical and physical conditions is Maysa's receipt for her open-minded choice of themes. In her first tune My Destiny she showcases her positive standpoint. She has a strong believe that the universe can be under control and problems can be solved. Najee's exceptional flute interpretation lets the song shine. Everything gonna be alright.
The spirit of Incognito is burning in Simpatico. An excellent product of the collaboration between Maysa and Rex Rideout. The captivating melody finds its magic counterpoint in bridges and refrains. This strong tune has the power of a mega hit.
In Never Really Ever Maysa complains the lost of a beloved friend. But it's also the message to never ever gonna give it up. Especially in such themes Maysa puts all her passion.
The Bossa Nova song Higher Love is featuring Najee (flute) and Nick Colionne (guitar). Simply superb the accentuated interpretation of all musicians. Maysa's scat vocals are from another world.
Take Me Away is the female counterpart or Maysa's answer to Marvin Gaye's Sexual Healing. The sensitive ballade Grateful is a mellow interplay of Maysa (vocals), Rex Rideout (keys) and Michael Ripoll (guitar). Very attractive and absolutely appealing.
Let's Figure It Out is dedicated to Bluey (Incognito). Nick Colionne performs his guitar in his own elegant style, which is so similar to George Benson's flavor. In the middle of the song the tempo accelerates to a dance floor hit.
In I Need A Man Maysa expresses her wish to find a man who will shelter her. Chris Davis adds some special sound effects to musically underline this heartfelt ballade. Maysa comments the song in an interview with Jazz Monthly: ".. my whole thing is to get the family values back together where people eat dinner together again, go sit down and have a meal together, even just once a week they all get together. Every night would be ideal, that kids and parents eat together and see their parents are together, that everybody eats dinner together…I just think that's a beautiful thing."
The uplifting song Happy Feelings is build on a modern contemporary beat. Maysa blends scat song with Brazilian Bossa Nova and her own overdubbed vocals. Just perfect!
Maysa also has an affinity for slow and stately songs like Love So True. A jewel of a ballade. On this song Maysa masterly uses the reverb as a form of expression.
Ledisi and Melvin Lorenzo Johnson wrote the wonderful Walk Away especially for Maysa. Ledisi has so much talent that other artists like Prince already worked with her and you can await a lot more.
In A Conversation With The Universe we dive into the African beat. Maysa is scat singing along some spherical keyboard sounds. A great mixture of chill out and world music. The incredible sound is created by Global Noize, the brilliant project of Jason Miles and DJ Logic. They recently released their first self-titled album.
On the UK version of Maysa's album there are the bonus tracks I Can't Help It from her album Feel The Fire (2007) and All I do from her album Sweet Classic Soul (2006) as sweet appetizers.
Metamorphosis is so far Maysa's best solo album, and with all respect she performs on a very high level. For lovers of jazz and soul this is the best combination you can get.




Title: Metamorphosis
Artist: Maysa
Year: 2008
Length: 1:10:07
Genre: General R&B/Smooth Jazz
Label: Expansion records


Tracks:

01 My Destiny [4:39]
02 Simpatico [5:22]
03 Never Really Ever [3:47]
04 Higher Love [4:22]
05 Take Me Away [4:32]
06 Grateful [4:28]
07 Let's Figure It Out [7:11]
08 I Need A Man [4:19]
09 Happy Feelings [5:25]
10 Love So True [4:32]
11 Walk Away [5:48]
12 A Conversation With The Universe [5:58]
13 I Can't Help It [4:23]
14 All I Do [5:20]