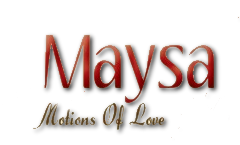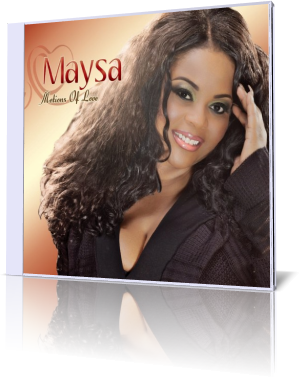 Maysa Leak, best known by her mononym Maysa, is one of the leading jazz and soul singer of our time. She became popular by her work as lead-vocalist of the British Jazz-Funk band Incognito. Since 1991 she is integral part of this group and has strongly influenced the band's vocal style. Her first album with Incognito was Tribes, Vibes and Scribes (1992).
In her solo career she expands in the smooth jazz genre with the albums Maysa (1995), All My Life (2000), Out Of The Blue (2002), Smooth Sailing (2004), Sweet Classic Soul (2006), Feel The Fire (2007), Metamorphosis (2008), A Woman in Love (2010) and now Motions Of Love (2011).
On her new album she is accompanied by a legion of musicians like Chris "Big Dog" Davis (keyboards), who produced a great part of the album, Eric Jackson (guitar), Paul Aborgast (trombone), Charles Baldwin (bass), Carl Carter (bass) and many more.
As special guest Stevie Wonder appears on the album. Maysa asked Stevie: "Is this a Stevie song or a Maysa song?". He said, "It's a Maysa song." Maysa: "Then I just lost my mind! It's crazy! He doesn't do this, it's very rare that he does this for anybody. So I'm triply honored that he did that for me."
Get Wit Me is a fast-paced starter in the style of Incognito. A horn driven arrangement with an excellent Chris Davis on the keys and a divine Maysa charming the audience with profound love. With the cozy Come Dance With Me Maysa allures all listeners. Feel comfortable!
Day N Night is the result of Maysa's collaboration with keyboardist/producer Angela Johnson. A new highlight of Angela's evolution as an erudite production talent. The video of Flower Girl was already published before the release of the album. The R&B influenced tune features Dwele, who broadens the song with a nice bass vocal line.
Have Sweet Dreams is Stevie Wonder's homely lullaby. Stevie co-wrote the song with Kimberly Brewer and added his well-known harmonica to the song. His breathtaking rhythm may not please everybody. Motions Of Love was composed by Anthony Kemp, who performs with his wife Joann as Southern Silk Duo. A song tailored for Maysa to showcase her incredible song talent.
Saxophonist Kim Waters is known for his creativity dreamy melodies and sultry ballads. You Won't Find Your Way is his collaboration with Maysa as composer. Maysa has experienced many ups and downs in her relationships. No one can share like her these emotions. Listen to When It's Over. The horns are pleasantly following the EWF style.
Love Sweet Love (LSL) is not just a Disco song. In fact Maysa can modify her voice in different timbres from girly to Diva building a complete chorus line in a magnificent way. Hold On is stylish in the tradition of Brand New Heavies.
Maysa also impresses with emotional ballades like I Try. Originally the song was interpreted by Angela Bofill, known as her "signature" song. Angela suffered two strokes. Fortunately she convalesced and enabled her to do "The Angela Bofill Experience." On this show she narrates stories while flautist Dave Valentin and Maysa perform her classic songs. No wonder that Maysa can interpret the song with great tenderness.
After a reprise of When It's Over featuring the brilliant sax player Carl Cox follows Your Name's Not On The List. The song surprises with an astounding excellent drum programming by Charles Baldwin. With some guitar chords by Richard Tucker and Maysa's vocal wonder the song keeps running. Special Place offers solid contemporary R&B stuff. Just en vogue.
With Motion Of Jazz Maysa shows another picture of her great stylistic diversity. This album unites soul, R&B, disco and jazz in a great bouquet of appealing ballades. Typical Maysa!




Website


Buy the album in all stores

Album Information

Title: Motions Of Love
Artist: Maysa
Year: 2011
Length: 0:59:26
Genre: General R&B
Label: Shanachie Entertainment


Tracks:

01 Get Wit Me [4:36]
02 Come Dance With Me [3:34]
03 Day N Night [5:00]
04 Flower Girl (Featuring Dwele) [4:01]
05 Have Sweet Dreams [4:27]
06 Motions Of Love [4:02]
07 You Won't Find Your Way [4:09]
08 When It's Over [4:47]
09 Love Sweet Love (LSL) [3:59]
10 Hold On [5:27]
11 I Try [5:51]
12 When It's Over (Reprise) [2:14]
13 Your Name's Not On The List [3:29]
14 Special Place [3:50]





Further review:

Metamorphosis