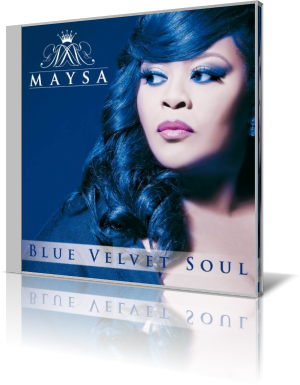 The outstanding singer Maysa writes music history since many years. Famous as lead-vocalist of the British Jazz-Funk band Incognito she constantly continues her own projects.
For collectors of her music her discography: Maysa (1995), All My Life (2000), Out Of The Blue (2002), Smooth Sailing (2004), Sweet Classic Soul (2006), Feel The Fire (2007), Metamorphosis (2008), A Woman in Love (2010), Motions Of Love (2011) and this year Blue Velvet Soul.
This album is stylistically a change compared to her previous records. Maysa explains: "Well, this record is not jazz-influenced at all. I do a little bit of scatting here and there. Most of my records have had a jazz influence. But I find myself leaning more towards R&B music right now and doing it the old school way. R&B, soul music and funk music is in my spirit, it's in my soul, in my DNA."
Maysa teamed up with familiar companions of the music scene, but also connected with new musicians. Producer and writer of the introducing tune Beautiful Dreamer is for example Eugen Botos, known by his jazz fusion project My Space. The result is a surprisingly gentle ballad.
Do I hear slightly of Grace Jones on Sophisticated Lover? Chris "Big Dog" Davis creates the flow and Maysa is surfing on the wave. Promising also sounds his second contribution Be There. Amazing are the many colors of Maysa's vocals. Jean-Paul Maunick pays his best voice respect with the input Good Morning Sunrise.
The love and the relationship between the sexes is always a key issue for Maysa's songs. What Can I Do or When You Touch Me are no exception. But also melodic mood descriptions like on Pouring Rain succeed in wonderful detail. While When Your Soul Answers recalls Incognito, reminds me Put It On Me of the golden days of Sister Sledge.
One should be aware that Maysa has created together with Chris Davis a variety of recordings. Both achieve an intensity and depth that one stays sometimes speechless. Inside My Dream or Quiet Fire are good illustrations. If one searches for the jazz, then you will eventually find it at I Care. The horn section has that magic touch.
Maysa's contralto is in the house on the handclapping This Much. One more disco time with Nothing But You fresh from London's top studio. The album closes with Love Me Good, a further collaboration with multi-instrumentalist and producer Lorenzo Johnson.
With her tenth album Blue Velvet Soul Maysa reaches to the stars: a positive reaction from Grammy voters. "The nomination is what I'm going after," she says. "My music has deserved that for so long. I don't know why it hasn't achieved that." So I wish her all the best for a Grammy in the more classic style R&B.




Biography

Website


Buy the album in all stores

Album Information

Title: Blue Velvet Soul
Artist: Maysa
Year: 2013
Length: 1:01:29
Genre: General R&B
Label: Shanachie Entertainment


Tracks:

01 Beautiful Dreamer [3:41]
02 Sophisticated Lover [3:42]
03 Be There [3:36]
04 Good Morning Sunrise [4:26]
05 What Can I Do [4:20]
06 Pouring Rain [4:30]
07 When Your Soul Answers [4:12]
08 Put It On Me [4:21]
09 Inside My Dream [4:21]
10 When You Touch Me [4:14]
11 Quiet Fire [4:44]
12 I Care [3:13]
13 This Much [3:45]
14 Nothing But You [4:55]
15 Love Me Good [3:28]




Further reviews: