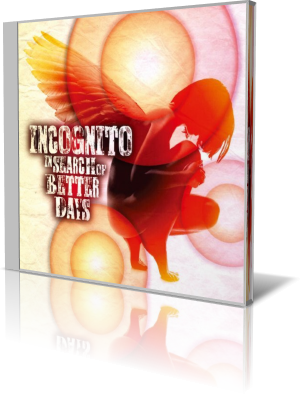 The attainment of happiness is well anchored in all human beings. Happiness can be understood as the moral goal of life, as an aspect of chance or as unquenchable thirst. This pursuit of happiness is also the fundamental mood of Incognito's new album In Search of Better Days.
The presence with its manifold problems gives us plenty of opportunity to develop this desire. Music seems to be a proven escapement capability from this dilemma. But music should not be overloaded with more ideology.
Bluey's 17th studio album features his crew: Singers Imaani, Vanessa Haynes, Tony Momrelle, Katie Leone, Vula Malinga and of course Maysa, pianist Avery Sunshine, drummer Richard Spaven, percussionist Jody Linscott, and Japanese guitar legend Tomoyasu Hotei of Kill Bill fame. It's the sound of London, acid jazz as only Bluey can create.
Love Born in Flames doesn't come in plain harmony. It takes a little empathy to interpret the dissonance as a style element. Just Say Nothing keeps it raw and funky. Vanessa Haynes has that special husky voice that sometimes reminds of Chaka Khan. Everyday Grind features soul queen Maysa who frees us with her exquisite voice of everyday life's burdens.
The stomping Racing Through the Bends offers another soulful appearance of Maysa who has meanwhile achieved the virtuoso status of a legend. On Love's Revival singer Tony Momrelle and the brass unit of Incognito melt to a perfect pairing. Selfishly is laid down with flying colors by soul star Maysa. Love Be the Messenger kicks off with Vanessa Haynes. The arrangement is overall funky with raw snare beats, a punchy horn arrangement and then merging into a marching direction.
I See the Light connects to the style of Bluey's earlier group "Light Of The World" featuring "feel-good" Avery*Sunshine on grand piano and Bluey as singer showing the flag. One of the rare instrumentals on this album is Echoes of Utopia. In the center of musical perfection stand Andy Ross on flute and Trevor Mires on trombone. With an extra dose of percussion and horn arrangement this is the music why I love Incognito.
Move It Up gives the torch to Vanessa Haynes. Acid jazz, in a lively performance. UK based white soul singer Katie Leone is another integral part of Incognito. Crystal Walls is her song. London based Japanese guitarist Tomoyasu Hotei is a star in Japan, in Europe and America rather unknown. The powerful Bridges of Fire is his platform. A song on the borderline between contemporary jazz and rock.
All I Ever Wanted shows anew the magnificent blessed phrasing of Maysa, which makes this love ballad to a passionate confession. An undiscovered talent, singer Vula Malinga, gets the chance of her life with Better Days. The result is stunning. She will certainly be soon a household name in the music scene.
Incognito's new album In Search of Better Days underlines again that this formation of top notch musicians is the powerhouse of the British acid jazz movement. A further testimony to Bluey's own legend.