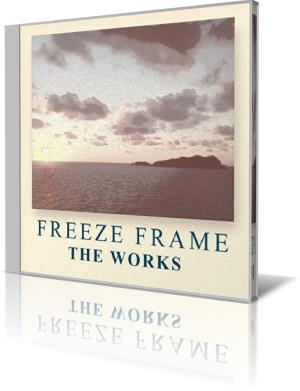 Since several decades the musician Ray Bach is associated with the project Freeze Frame, music ­ timeless and in the border area of smooth jazz and new age. His new release The Works (2015) is greeted with a laughing and a crying eye. Sadness creeps in with the thought that it might be his last album.
Ray calls it his final album and a worthy ending. With as many as 16 songs he sweetens this termination. He is accompanied on individual pieces by Thomas Barquee, Liza, Konstanze Arens (vocals), Stephan Gade, Ricky Garcia, Jörn Becker (guitars), Georg Hahn (vocals, violin), Lars Slowak (vocals, bass), Nils Karstens (brass), Petra Rathmann (saxophon), and Benn Timms (trumpet).
The album starts with familiar sounds. A Perfect Day reminds of many of his earlier works from a creative period of 25 years. Carefree are swinging sounds by synthesizers and keyboard across the room. Ray is also ready to receive new impulses. The Skerries of Stockholm featuring singer Konstanze Arens is treading trendy ways.
With Ayayay Ray brings it back to the point of his creative range. Summer Love has that special something. The piece reminisces and reminds harmoniously of great songs of formations like Chicago or Crosby, Stills, Nash & Young. Never Want to Say Goodbye may well be understood as Ray's personal legacy.
Thomas Barquee, who is at home in mystic mantra, lends his voice to I Can Only Imagine. Time Flies ponders the rapid passage of time. Anytime, Anywhere is lost in the no man's land between groove and dreaminess. On Kaleidoscope Ray revels in the sonority of his sound equipment. On Can't Stop the Energy he let his musical ideas run free.
Sometimes you have simply operate your rhythm machine and musical creativity just does the rest. This seemed to happen on Best of Both Worlds. Sun Cruising shines with a particularly successful composed tune. Everyone has own memories of Paris. Ray processes his on Liz in Paris. The slightly older audience will remember the song Albatross of the group Fleetwood Mac. A Seagull's Journey also internalized the flight of a sea-bird.
Ray unfolds his inner feelings on She Is in My Heart. The album ends with the soulful ballad The Spirit featuring blessed singer Georg Hahn wonderfully supported by Ray and Nils Karstens.
With The Works Ray Bach presents a consistently drafted sensitive oeuvre, always memorable. Hopefully the last word when it comes to finishing the musical career has not yet spoken.



Buy the album in all stores

Album Information

Title: The Works
Artist: Freeze Frame
Year: 2015
Length: 0:60:34
Genre: Smooth Jazz
Label: Laterne Tonträger


Tracks:
01 A Perfect Day [3:37]
02 The Skerries of Stockholm [3:59]
03 Ayayay [4:01]
04 Summer Love [3:34]
05 Never Want to Say Goodbye (Remix 2015) [3:54]
06 I Can Only Imagine [3:44]
07 Time Flies [3:56]
08 Anytime, Anywhere [3:47]
09 Kaleidoscope [3:53]
10 Can't Stop the Energy [4:02]
11 Best of Both Worlds [3:35]
12 Sun Cruising [4:05]
13 Liz in Paris [2:32]
14 A Seagull's Journey [3:42]
15 She Is in My Heart [3:36]
16 The Spirit [4:36]




Further reviews: