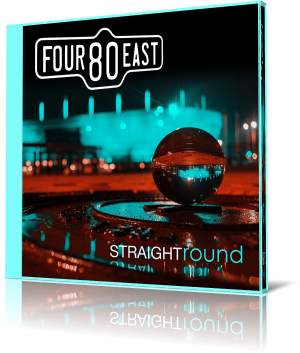 Toronto based musicians Rob DeBoer and Tony Grace are Four80East. They started with The Album in 1997, followed by Nocturnal (2001), Round Three (2002), En Route (2007), Roll On (2009), Off Duty (2012), Biblotheca (2013), Four80East LIVE (2014), Positraction (2015), Cherry-Picked (2016), a Vinyl-collection, and Four On The Floor (2018).
Their new album Straight Round is announced for March 20,2020. The promotion speaks about neo-jazz, soul, funk and jazz as stylistic classification. Opener of the album is Around The Corner which in its introduction is reminiscent of the style of The Art Of Noise. But then the tight groove kicks in and that is the trademark of the Toronto duo. The guitar motif is influenced by Hall and Oates.
All The Marbles is Brubeck's Take 5 on ecstasy. A sonorous synth bass combined with a jazzy guitar, that is hip, that is hop. The percussion seduces me to activate my HandSonic. The absolute bang is however the infective Ba Ba Brazil, which will certainly climb the charts of all radio stations.
Busted Flush appears as a musical elemental force, as was last experienced with Emerson, Lake and Palmer. Slipstream is the appropriate title for the dynamic, rhythm emphasized tune, which adapts the melody sequence to the pulsing beat.
Slinky Joe falls somewhat out of the usual concept of the group. It has strong blues elements, which are especially strengthened by the introduction of the harmonica. On After Tonight acoustic guitar meets trumpet before the electric piano swings into a terrific solo. Off Tropic dives into the European chill out zone with a nice citing of Spinning Wheel.

The Outlaw evokes associations to a western film, James Bond movie and presents a splendid harmonica in the lead, Toots Thielemans would be proud of. Straight On Till Sunrise surrenders itself completely to the urgent rhythm as known from techno music, Rob however combines the beat with self-contained keyboard chords.
Four80East are always good for a surprise. With Straight Round they prove again that they still have many arrows in their quiver. We are witnesses of an exciting musical development process.





Buy the album in all stores

Album Information

Title: Straight Round
Artist: Four80East
Year: 2020
Length: 0:54:52
Genre: General Jazz
Label: Boomtang Records


Tracks:
1) Around The Corner (5:47)
2) All The Marbles (4:49)
3) Ba Ba Brazil (4:31)
4) Busted Flush (5:06)
5) Slipstream (4:36)
6) Slinky Joe (4:32)
7) After Tonight (4:51)
8) Off Tropic (5:13)
9) The Outlaw (5:38)
10) Straight On Till Sunrise (5:34)
11) Ba Ba Brazil (Radio Edit) (4:10)





Further reviews: