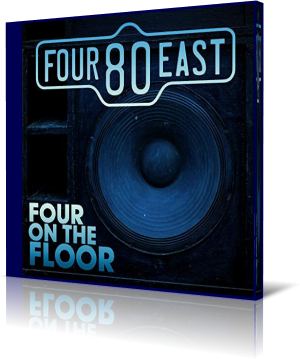 The Toronto-based electro-jazz duo Rob DeBoer and Tony Grace have bundled their creative activities in the formation Four80East. They started with The Album in 1997, followed by Nocturnal (2001), Round Three (2002), En Route (2007), Roll On (2009), Off Duty (2012), Biblotheca (2013), and Positraction (2015). In 2014 they released the album Four80East LIVE and in 2016 a limited vinyl collection Cherry Picked.
Their new EP Four On The Floor is a musical business card inspired by their early days as House producers. The duo is joined on two tracks by vocalists CeCe Peniston and Wade O. Brown.
The title track is a highly danceable rhythm enhanced groovy tune with a savory horn background. The rhythm guitar is inspired by Nile Rodgers (Chic) and together with the steady hook line Four80East presents an ultimate dance floor hit.
CeCe Peniston asks sustainably Are You Ready (for love)? I don't know if the listener is ready for a date, but certainly for a dance. Cinco Cinco Seis reminds me of my stay in Santiago de Bahia, when hustle and bustle was in the disco tents on the beach.
Keep Love Moving features soul singer Wade O. Brown who is a main stay in the soul scene of Toronto. Similarities with the Motown sound are obviously intended. Ocean Bass follows the former House Music time of the two musicians. Pressing the volume up through filters and flangers. I want my Noodle Soup back, Rob.
Typical for Four80East, as on Four On The Floor, are the uncompromising but consistently skillful grooves, which serve the sole purpose of entertaining the audience in the best possible way.
Buy the album in all stores

Album Information

Title: Four On The Floor
Artist: Four80East
Year: 2018
Genre: Acid Jazz
Label: Boomtang Records


Tracks:

1 Four on the Floor 5:54
2 Are You Ready? Four80East & CeCe Peniston 5:27
3 Cinco Cinco Seis 4:25
4 Keep Love Moving (feat. Wade O. Brown) 3:59
5 Ocean Bass 5:17

Further reviews:


Bibloteca