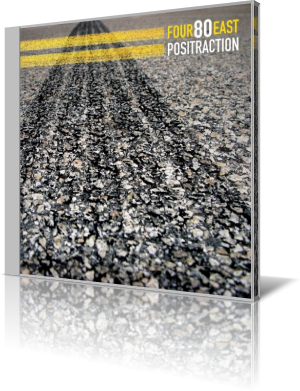 Toronto based musicians Rob DeBoer and Tony Grace are Four80East. They started with The Album in 1997, followed by Nocturnal (2001), Round Three (2002), En Route (2007), Roll On (2009), Off Duty (2012) and Biblotheca (2013). Their newest album Positraction will be released July 17th, 2015.
From the musical style the formation offers many possibilities of assignment. Soul music, acid jazz, smooth jazz, electro-jazz. There are diverse elements of style in a large mixer. Originally a studio project the band already presents since some years a high-energy live show with supporting stage musicians.
On the new album both musicians are joined by Jon Stewart (sax), Bill McBirnie (flute), Alexis Baro (trumpet) and a horn section with Bob Rice (trumpet), Gene Hardy (tenor sax) and Gord Myers (trombone). All songs are written, recorded and produced by Rob DeBoer and Tony Grace.
Positraction is a portmanteau formed from positive attraction. Sometimes you have to invent a word to summarize good music in words. Believe me, the starter is definitely hot! Eegee Beegee kicks off with a vintage synth sound, drops in some funky horns, wah guitar, cowbells and sax, all in the duty of entertainment. This is like a transformation of Birdland into future.
Now I am curious. Is the group able to keep this tension in position? Into the Wind offers a natural bass run, a rocket born trumpet and a restless and lively flute. A new sound revelation. Apodictically the next track is entitled Hold A Candle. Everything is here in mood, perhaps gloomy, but definitely exotic.
Meanwhile, we have 36 degrees Celsius outside temperature and raising. But this album has me under control. Dirty Stack is a new sound experience like a children's carousel next to a roller coaster. The musicians have fun during the recording because they create something great. Innovative funk, on which Bootsy Collins would be jealous. Here gives everyone, especially the horn section a master work.
Tikitango comes with a fast paced Bossa Nova pulsed electric piano and Bill McBirnie's mesmerizing flute. Latin lounge at its finest. Soft Focus sets a counterpoint with dreamy gentle keyboard and sax elements. Cookie Strut walks the lounge line. Something for relaxing. Window Seat is designed foe the electro dance scene. Fortunately, purely electronic sounds are blending with instrumental sound and the rhythm is intoxicating. Final tune is the reggae based Moment to Moment. Thrilling, pulsating, in the right groove.
Four80East and their album Positraction have earned the prize for innovation. Entertaining, varied and captivating. A real recommendation.



Buy the album in all stores

Album Information

Title: Positraction
Artist: Four80East
Year: 2015
Length: 0:57:43
Genre: General Jazz
Label: Boomtang Records


Tracks:
01 Positraction [5:00]
02 Eegee Beegee [5:25]
03 Into the Wind [5:05]
04 Hold a Candle [6:12]
05 Dirty Stack [6:22]
06 Tikitango [5:47]
07 Soft Focus [5:33]
08 Cookie Strut [5:31]
09 Window Seat [6:54]
10 Moment to Moment [5:54]




Further reviews: