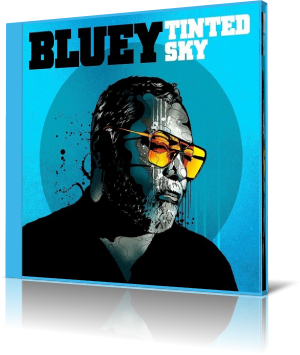 He is regarded as the forefather of the British acid jazz and jazz funk movement. In the main profession musician, in the secondary profession band founder and talent promoter. The Mauritius born music genius Jean Paul Maunik, better known as Bluey, co-founded the band Light Of The World before he achieved world fame with the group Incognito. Never self-sufficient, he founded the side projects Citrus Sun and Innershade and to complete the portrait he already released his solo albums Leap Of Faith (2013) and Life Between The Notes (2015). With some delay his third solo album Tinted Sky will be released in June on Dôme Records (UK) and Shanachie Entertainment (USA).
Bluey performs on the new album lead guitar, keyboards and vocals. Richard Bull plays guitar, keyboards and all other instruments. He is also responsible for programming, recording, mixing and mastering. All songs were produced, written and arranged by both.
Bluey also provides the explanation for this intimate two-man project. "When you live in a large family in one house, it's great to pack up in the middle of the night and disappear where nobody knows your name, live off the land and to do things without the big picture in mind. Just do! That's what this is!"
The opening song You Are The One quickly turns out to be a gentle love ballad, a jubilant apotheosis of the adored. Limited to the message, entertaining in character, yet simple and easy-going. With Don't Ask Me Why he soon delivers the other side of the coin, the decline of love and the entrance to the valley of despair.
With relief one then notes Back Here Again, with which Bluey gives preference to the instrumental. Based on a shuffle beat in the style of Soul II Soul Bluey anew reflects about love on From the Break of Dawn. Had to Make You Mine starts, where Mc Fadden and Whitehead ended with their hit Ain't No Stopping Us Now. This is a head bopping, hand-clapping, toe tapping street hit.
With Nobody Knows, some thoughtfulness enters Bluey's theme world. The focus is on the beginning of a relationship. With Unaware a new vocal timbre opens up. The voice has the edginess of a Western hero. Crazy 'Bout You aptly describes the state of emergency of a lover who is fixated on his goal.

Tinted Sky especially shines with a guitar solo which functions as a bridge between the vocals parts. Floating Worlds finish the album with rich and pleasant harmonies.
Bluey's solo album Tinted Sky is for all friends of Bluey who love his vocal site. For all others the next Citrus Sun is coming soon!





Buy the album in all stores

Album Information

Title: Tinted Sky
Artist: Bluey
Year: 2020
Genre: Acid Jazz
Label: Shanachie Entertainment

Tracks:

1 You Are the One
2 . Don't Ask Me Why
3 Back Here Again
4 From the Break of Dawn
5 Had to Make You Mine
6 Nobody Knows
7 Unaware
8 Crazy 'Bout You
9 Tinted Sky
10 Floating Worlds




Further reviews: