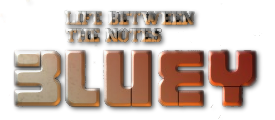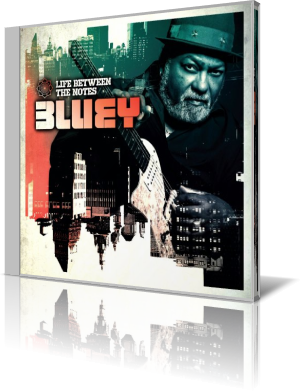 Jean Paul Maunik, better known as Bluey, is the icon of acid jazz. He is founder and leader of the project Incognito, with which he has released fifteen studio albums as well as a number of live albums, remix albums and compilation albums. Before he was a member of the group Light of the World. His further projects are Citrus Sun and Innershade.
In 2013 he released his first solo debut album Leap of Faith. His sophomore solo album Life Between The Notes will be released in Japan this week, in UK on April 20 (Dôme Records) and in USA on Apr 28, 2015 (Shanachie Entertainment).
The album starts with the appetizer Dance To My Drums. A bass line and pushing drums are underlining the message. Life Between The Notes conjures the open road of soul, R&B and acid jazz. With a keen sense of harmony Bluey exerts his sensitive voice and even presents some overtones. With electronic accents, bass rhythms and hand clapping Hold On is well prepared for the club scene.
Saints And Sinners has inspiration by soul jazz singers like Gil Scott Heron or Donny Hathaway with a vintage Rhodes sound, scat singing and the cool atmosphere of a smoky tavern. Trippin' On This Feelin' rides the Bossa Nova with a Latin tinged rhythm and the vibrant vocals repeating the song line in a hypnotic way.
On I've Got A Weakness For Your Love he even dares the falsetto in the style of the Bee Gees. Tomorrow Never Lies kicks off with a propelling beat and speedy guitar riffs, while the vocal part concentrates on the harmonic choral effect. The funky bridge presents a recitative song.
On Columbus Avenue Bluey emphasizes more acoustic. Acoustic bass, cymbals on the drum side, and piano chords give a ladder to rise and unfold. The song takes on transit, when Graham Harvey incorporates jazzy Salsa elements and percussion arrives. With Caught Up In The Grey Bluey lets some melancholy into his music. Happiness comes back on Been There Before.
Of course, a love ballad should not be missed. More Than Getting By delivers some sweet-sour memories. On The Poetry of Life Bluey gives away wisdom wrapped in captivating music. Bluey comments his final song Sunships On The Shores Of Mars꞉ "This is the deepest adventure I've allowed myself to take into the jazz world. Graham Harvey at the piano, Richard Bull on drums, percussion, bass and guitar, create the sound of an intimate quartet that allows me to croon like I've never crooned before...″
On Life Between The Notes Bluey stretches out as a solo vocalist with thirteen individual presentations. With his formation Incognito he performed with several of the best singers worldwide. That's infectious and the result is always worth listening to.



Biography

Album Information

Title: Life Between The Notes
Artist: Bluey
Year: 2015
Length: 0:57:36
Genre: General Jazz
Label: Shanachie Entertainment / Dôme Records


Tracks:
01 Dance To My Drums [1:34]
02 Life Between The Notes [5:12]
03 Hold On [5:24]
04 Saints And Sinners [4:50]
05 Trippin' On This Feelin' [4:25]
06 I've Got A Weakness For Your Love [4:34]
07 Tomorrow Never Lies [4:50]
08 Columbus Avenue [4:57]
09 Caught Up In The Grey [3:59]
10 Been There Before [4:07]
11 More Than Getting By [3:07]
12 The Poetry of Life [4:48]
13 Sunships On The Shores Of Mars [5:49]






Further reviews:




Transatlantic RPM

Amplified Soul

Tales From The Beach

Surreal

Jazz Funk

Innershade - 4 Corners

Citrus Sun - Another Time, Another Place