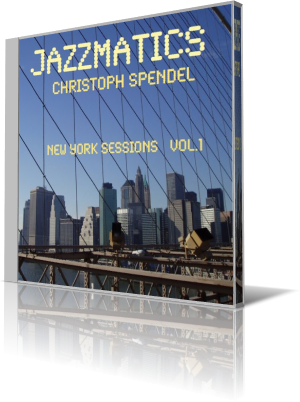 Jazzmatics Vol. 1 New York Sessions is the first album in the Jazzmatics series by jazz genius Christoph Spendel. The addition New York Sessions is explained by the fact that Christoph Spendel recorded these pieces during his stay in the USA in the 90's.
Christoph was supported by top notch musicians, with whom he performed on many events in the years 1993 - 1994. The album starts with the powerful City Life, described by Spendel with mighty keystrokes. Near the epicenter of fusion jazz he is also toying with other formats.
Backed on a precise and snappy percussion rhythm Christoph exercises on Strong People the noble art of piano driven jazz. From the Past allures with elevated pristine synth sounds in opposition to a stroke of piano genius.
I recommend listeners to concentrate on the sonic core of You Got Me and you will be rewarded. Late Ballad crosses experimental sound approach with a melodious piano theme and fine synth harmonies. On Silent Beach are various masters at work. A percussion influenced by late George Jinda meets piano play on the highest level in combination with supreme guitar performance.
Over the Skies serves pearl-like piano, massive synth bass, heavy beats and swab samples of synth. Leave the Scene pampers with a hooking melody framed by strings. Acoustic wellness treatments of the smooth kind. Mexican Skies accelerate the tempo to a virtuosic piece of highest mastery. Another highlight one shouldn't miss.
Sound disturbance? No, on Modern Ballad excels the crew in a mixture of bebop jazz and experimental fusion. Christoph's marked tendency towards percussion gimmicks contrasts on Turn To the Sunlight with the Latin tinged sound motif. Swinging Monday celebrates hybrid forms of acid jazz and hip hop.
Second Thoughts approaches an expressive modern jazz, especially the prolific saxophone player. With the soothing Stuck in the Sunlight Spendel sets a smooth alternative to his more engaging fusion jazz. Train to Paris opts more to surprising effects and an irresistible groove in support of Spendel's far-reaching piano act.
Jazzmatics Vol. 1 New York Sessions offers an extremely variable stylistic mixture, which challenges the listener. Ambitious, demanding but also the most exciting and fulfilling experience.




Website


Buy the album in all stores

Album Information

Title: Jazzmatics Vol. 1 New York Sessions
Artist: Christoph Spendel
Year: 2016
Genre: Lounge
Label: CSP


Tracks:

01. City Life
02. Strong People
03. From the Past
04. You Got Me
05. Late Ballad
06. Silent Beach
07. Over the Skies
08. Leave the Scene
09. Mexican Skies
10. Modern Ballad
11. Turn To the Sunlight
12. Swinging Monday
13. Second Thoughts
14. Stuck in the Sunlight
15. Train to Paris




Further reviews:



Landscapes (with Lenny Mac Dowell)


Jazzmatics Vol. 4

Jazzmatics Vol. 3

Jazzmatics Vol. 2