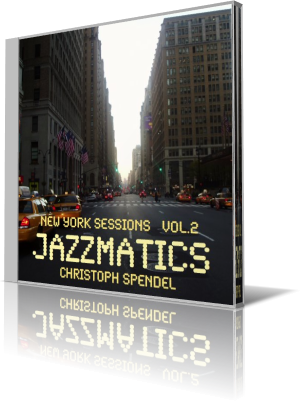 The Jazzmatics series is for Christoph Spendel a resume of the last 40 years. It started 1971, when Christoph watched on TV Miles Davis and his band during the Berliner Jazztage. The Miles Davis cast made it clear how interesting it is to combine different styles and cultures.
Christoph is a child of the 70's, when fusion jazz and rock jazz were developed, later copied to a high level. The mixture between America, Africa and Europe is a huge musical treasure trove for him. He always surrounded himself with musicians, who also shared his philosophy. So with his bands in Germany and in USA as a member of Special EFX.
He had the opportunity to perform with Chuck Loeb, Dave Samuels, Dave Valentin, Lee Ritenour, Marion Meadows, Chieli Minucci, and more. His love for Weather Report and his longtime friendship with Joe Zawinul have also shaped him. His passion for Latin music was fueled by his numerous Cuba visits.
Jazzmatics is a result of his impressions and experiences. Keep this all in mind by listening to Dreaming Big. Influences of Special EFX, Fantasy Band, West End Avenue and Reuben Hoch and the R.H. Factor are to find in this music. Evening Mountains captures the moment of a sundown in the Rockies with wonderful piano touches, synth sounds and guitar chords.
Four Lanes is build on a programmed rhythm with a simple structure. The core of the tune are the fine piano and guitar improvisations leveling the tune above the average of smooth jazz productions. On Latin Space Spendel shines with a sparkling organ solo.
Spendel knows the strength of melody. Lost Hours follows the "Keep it simple" principle which spreads the magic. Friendly Streets is a multi-layered composition featuring the ambiance of NY streets with some infectious themes and bridges.
Upper West Dreams kicks of with strikingly compelling keyboard sounds and driving drum grooves. On Funky Animals Spendel heavily resorts to the bag of tricks in his huge sound park to create a hip arrangement. Takin off to California has some Discopop feeling with orchestral hits, keyboard rhythm and synth bass.
Journey to Chicago is a musical serendipity sketching the travel with catchy synth sounds. Late Writing comes with an indescribable feeling of joy well transcribed by a bunch of synth sounds reaching the final destination of happiness. Every period has a modern sound. Looking Happy reaches back to the 90's, when piano and synth meet shuffle beat.
My Way of Life goes seamlessly to this style. Noisy beat is the basis for atmospheric synth harmonies. Sun over Tampa prefers a Latin tinged rhythm featuring a lyrical walking synth theme inspired by Pat Metheny or Weather Report interchanging with a staccato performing Salsa piano.
Take Your Time is a good advice on listening to the song. A harmonic feast for the sense of hearing, if you are an aficionado of the classic synth waves. Dreaming Jazz combines keyboard sounds with brass lines acclaiming an elegance and subtle swing.
The Art of Chords is a demanding title with a strong center of professional musicianship and a superior level of compositional craft. Western Dreams marks the end of the collection keeping harmonically grounded on the roots of this creative period.
Jazzmatics Vol. 2 New York Sessions leans a bit more old school, when fusion jazz had its musical heydays. This is the heritage of a musical visionary who consequently follows his path to a future legend.




Website


Buy the album in all stores

Album Information

Title: Jazzmatics Vol. 2 New York Sessions
Artist: Christoph Spendel
Year: 2016
Genre: Lounge
Label: CSP


Tracks:

01. Dreaming Big
02. Evening Mountains
03. Four Lanes
04. Latin Space
05. Lost Hours
06. Friendly Streets
07. Upper West Dreams
08. Funky Animals
09. Takin off to California
10. Journey to Chicago
11. Late Writing
12. Looking Happy
13. My Way of Life
14. Sun over Tampa
15. Take Your Time
16. Dreaming Jazz
17. The Art of Chords
18. Western Dreams




Further reviews:



Landscapes (with Lenny Mac Dowell)


Jazzmatics Vol. 4