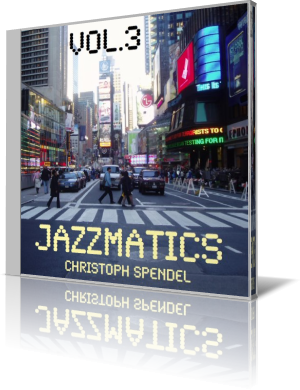 Jazz genius Christoph Spendel released the album Jazzmatics Vol. 3 at the same time as Jazzmatics Vol. 4. Christoph comments: "It is a kind of summary of my ambitions, knowledge and experiences". As on the previous albums of this series all songs are composed and performed by Christoph Spendel.
All Lines Are Open comes rough and unadulterated in acid jazz style. Organ, clavinet and hard snare beats give the song a specific character to a great extent. A howling sax and hip bridges complete the picture.
Bay Of Rhythm is a pulsing festival of beats with an extended range of scratching, Tablas and scat song, ecstatic trumpet and flute and much piano. Dogs And Melons persists first in a hypnotic loop, wherein tonal sequences are used as a rhythm generator. On this tapestry Christoph celebrates the utmost pinnacle of piano and keyboard sound architecture.
Funny Alphabet pushes forward with rim shots, bass runs and short handed guitars. Overall spreads the Hammond its retro sound. Slow Afternoon serves hard stuff for hard men, pure adrenaline for the ears and the optimal soundtrack for large loud parties.
Have you ever had the terrifying experience of getting into a Wrong Train? As you sit there and be at the mercy of fate, listen to the soothing alternating melody with steadily changing currents caused by the tides of sound. Costa Calma is a town in the Canarian island of Fuerteventura, Spain. Don't await some relaxing sound spot. That comes later. Costa Calma Waves bangs the drum in fast pace.
That Very Moment can be understood as a harmonic calming counterbalance with a swaying Latin flavored rhythm movement. Ocean Breeze presents a recurring melody such as ebb and tide. The final Summer Speed unleashes a breathtaking fireworks of percussion and propulsive rhythm guitar with a minimalistic piano theme.
Jazzmatics Vol. 3 is another mosaic stone in the wizardry of jazz legend Christoph Spendel.




Website


Buy the album in all stores

Album Information

Title: Jazzmatics Vol. 3
Artist: Christoph Spendel
Year: 2016
Genre: Lounge
Label: CSP


Tracks:
01. All Lines Are Open [6:54]
02. Bay Of Rhythm [8:14]
03. Dogs And Melons [7:09]
04. Funny Alphabet [7:37]
05. Slow Afternoon [7:08]
06. Wrong Train [7:20]
07. Costa Calma Waves [7:07]
08. That Very Moment [8:42]
09. Ocean Breeze [7:15]
10. Summer Speed [5:28]





Further reviews:



Landscapes (with Lenny Mac Dowell)


Jazzmatics 4