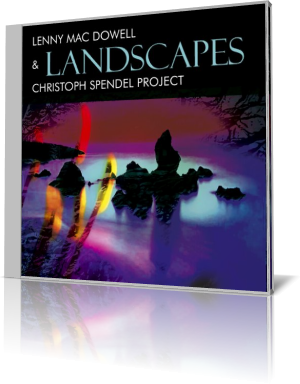 Jazz professor Christoph Spendel is known for his multifold collaborations with musicians of different genres. From straight ahead jazz to smooth jazz, from chill out to solo piano, the creativity of this keyboardist/pianist has no limits. With Lenny Mac Dowell Spendel already released the album Autumn Breath in 1987. Now they renew their common interest with Landscapes (2015).
Lenny Mac Dowell performs flutes, keyboards and programming, Christoph Spendel keyboards and programming. The duo starts the album with Landscapes. On a minimalist theme a cascade of flute tones are built up like a fountain to develop solos on flute and keyboard.
Take Five, a jazz piece composed by Paul Desmond and performed by The Dave Brubeck Quartet, is transformed to a laid­back groove in a moderate tempo. This theme flows through the smooth jazz genre performed by Dancing Fantasy, Grover Washington Jr., Dirk K or Phil Upchurch. From known terrain to Unknown Events, a mysterious atmospheric tune with a dark twist and a percussive background. Dowell sends his flute through overdubs, halls and modulations. Spendel follows the given path on piano and sets own highlights.
Tango For Luca delivers a lounge version of the Latin dance with the accordion sound as anchor but far away from what we are familiar with this music. Sultans Dance absorbs oriental vibrations to process them into a hypnotic groove. House Bossa is a chillout groove, already released on the sampler Ibiza Chillout Balearic Lounge Collection Vol. 4. This piece makes really steam and is an excellent dance floor runner.
Offset by modulating vibrations in trance, we reach new shores at Beyond Rush. On Park In The Dark the flute develops an own magic animated by multiplying echoes. Mac Dowell often apply a flute technique better known as locomotive breath by Jethro Tull, when the flute is also used as rhythmic element in addition to the actual function as a melody carrier. Night Folks is a good example for that.
Snare brush shuffle and acoustic bass invite to the captivating sequence of Coffee Break. Then Lenny Mac Dowell bursts out on flute like the first sun rays in the morning. Transmission comes with bass run and beat in the tradition of Pat Metheny, which makes this song immediately familiar. In this set up ensure targeted piano keystrokes and flute lines for the intended mood.
Spendel and Mac Dowell pursue with Landscapes no groundbreaking music of renovation. On the contrary is the focus on atmospheric entertainment of sophisticated kind. A crystal clear view on future music.




Buy the album in all stores

Album Information

Title: Landscapes
Artist: Lenny Mac Dowell & Christoph Spendel Project
Year: 2015
Length: 1:14:45
Genre: Smooth Jazz
Label: Blue Flame Records


Tracks:
01 Landscapes [5:25]
02 Take Five [6:45]
03 Unknown Events [7:14]
04 Tango For Luca [6:10]
05 Sultans Dance [8:15]
06 House Bossa [7:25]
07 Beyond Rush [8:08]
08 Park In The Dark [6:57]
09 Night Folks [4:51]
10 Coffee Break [7:20]
11 Transmission [6:15]


Further reviews:


Christoph Spendel - New York Groove

Planet Lounge - Electric Bolero