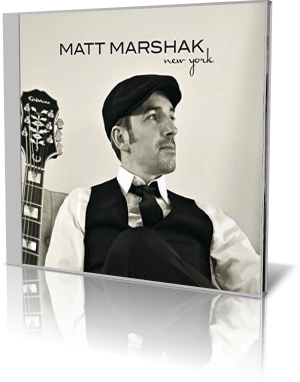 In the world of music artistry guitarist Matt Marshak has a secure and well deserved place. His life circle and sphere of activity is New York. A good reason to call his new album New York (2016).

Matt recorded the album in one day at Secret Studios in Baltimore supported by Sean Michael Ray (bass), Benjie Porecki (keys), Carl Anderson (drums), and Ronnie Queen (vocals on Real Music).

Most important was for Matt a human and natural sound with no drum programming and loops. He has implemented this concept on his album in all its consequences.

North Carolina starts the album in folk style influenced by the music of Bob Dylan. With the intention of leaving the perceived limitations of smooth jazz Matt travels the road to emotional folk music. Real Music makes the people dance is the credo, expressively sung by Ronnie Queen and performed by guitarist Marshak.

Lookin' Back is a self reflection to harmonic ground with background strings framed with a wah­wah effect. The After Party stretches out to a thematic performance with a certain proximity to the sound of Steve Miller Band. The title On My Way indicates that Matt has found a new level of self-identification with this kind of music.

On Change In The Air he exhibits a credible and authentic blues infusion. Greasy Groove shows Hohner clavinet and vintage organ sounds in combination with Matt's guitar establishing him as a recognizable force in blues. It's a natural process that the final tune Blues For Bb (King Of The Blues) is a tribute to the father of the Blues.

Has the smooth jazz genre lost with New York a great guitarist or is Matt Marshak just pushing the musical boundaries? Don't worry, it's all about good music.




Album Information

Title: New York
Artist: Matt Marshak
Year: 2016
Length: 0:42:43
Genre: General Jazz
Label: Nuance Records

Tracks:
01 North Carolina [5:39]
02 Real Music [5:57]
03 Lookin' Back [4:43]
04 The After Party [6:28]
05 On My Way [4:15]
06 Change In The Air [4:51]
07 Greasy Groove [4:36]
08 Blues For Bb (King Of The Blues) [6:13]


Further reviews: