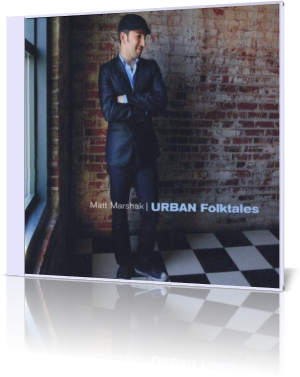 Long Island, New York native Matt Marshak is a full-blooded guitarist and an integral part of the New York music scene. Performing with many local groups he even received high accolades of Deep Purple's legendary guitarist Ritchie Blackmore.
Having sound knowledge in many genre his heart however beats for contemporary jazz. Preservation (2001), This Time Around (2004), Groovosphere (2006), On The Rocks (2008) and Family Funktion (2009) are his solo albums fostering the path to bigger popularity. With Urban Folktales he now shows constancy, reliability and certainly a sureness of touch in arrangement, composition and performance.
Top musicians have joined his recording staff: Rodney Williams (keyboards), Carl Anderson (drums), Kenny Harris (bass), Marcus Anderson (vocoder), Benjie Porecki (Fender Rhodes, Hammond organ, keys), Gina Breedlove (vocals), John Dillard (bass), Barry Danielian (trumpet), Mario Cruz (sax, flute, horns), Stix Bones (keys, programming), Chris Geith (keys). Matt performs on this album guitar, additional bass, keys and drum programming.
The album begins with Teddy P, Matt Marshak's personal homage to the late Teddy Pendergrass. Pendergrass first rose to fame as lead singer of Harold Melvin & the Blue Notes in the 1970s before a successful solo career at the end of the decade. Matt's heartfelt tribute is full of interesting guitar gimmicks, a mirror of his vivid live show.
Next To You shows more of Matt's investigational attitude mixing guitar licks with Markus Anderson's vocoder alienated vocals. "The straight hollow- body jazz guitar sound to me is everywhere today," he comments, "so I really wanted to experiment and have the guitar leads to be a bit different and fresh."
On the sultry Tell Me How You Feel Matt's guitar compete with Gina Breedlove's gorgeous vocals. The sensitive Silent Knowing features Barry Danielian on muted trumpet. Matt's silky smooth guitar caresses the moment. For So Long is another fantastic example how Matt approaches the music with new technology and creativity.
With Peace By Peace he combines elements of traditional guitar sound and Urban music. The Harlem River Drive is a north–south parkway in the New York City borough of Manhattan. Marshak delivers his personal impression of this well frequented street.
Cackalacky Cool is Matt's tribute to the famously original sweet potato spiced condiment! Time For Takeoff is an adaption of Peter White's style, but Matt always adds his individual note. Short and brilliant Benjie Porecki's piano interlude.
Glen Burnie offers a horn arrangement in the fashion of Tower of Power, while Matt extensively uses his wah wah effects. Backyard Party continues this foot pedal expression. Jimi Hendrix was one of the early users who popularized this effect. Matt is obviously addicted to this funky sound.
Final song on this album is Dancing With My Daughter, a slow reflective tune keeping memories of special moments. Mario Cruz appends emotional sax lines. The arrangement in the Blood, Sweat and Tears way is no coincidence.
Urban Folktales is a consistent follow-up to Matt Marshak's previous projects with a big dose of wah-wah guitar.




Website


Album Information

Title: Urban Folktales
Artist: Matt Marshak
Year: 2011
Length: 0:57:30
Genre: General Jazz
Label: Nuance Music Group


Tracks:

01 Teddy P [4:43]
02 Next To You [6:40]
03 Tell Me How You Feel (INTRO) [0:21]
04 Tell Me How You Feel [4:09]
05 Silent Knowing [4:37]
06 For So Long [4:43]
07 Peace By Peace [4:30]
08 Harlem River Drive [3:55]
09 Cackalacky Cool [4:52]
10 Time For Takeoff [4:12]
11 Glen Burnie [4:57]
12 Backyard Party [4:44]
13 Dancing With My Daughter [5:07]


Further Reviews