Matt Marshak - On The Rocks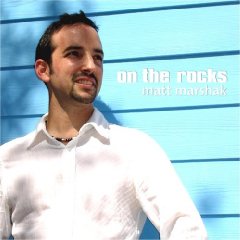 Born in Long Island, New York, Matt Marshak plays since several years an integral role in the smooth jazz music scene. This year he opened for Jeff Kashiwa, Steve Cole, Kim Waters, Joyce Cooling and Alex Bugnon. Currently he performs among others with Jessy J, 480 East and Chris Geith. With complete justification you can call Matt an in-demand musician.
His solo albums are Preservation (2001), This Time Around (2004) Groovosphere (2006) and On The Rocks (2008). On his new album Matt is supported by Andre Berry (bass), Chris Kent (bass), Chris Geith (keys), David Mann (sax), Tim Regusis (keys), Mario Cruz (sax), Dean Kraus (keys, piano), Chris Marshak (drums), Kenny Harris (bass), Jeff Feinstein (keys), Robert Meeks (organ), Katisse Buckingham (flute, sax), Michael McGuffey (trumpet), Lin Rountree (trumpet), Willard Meeks (rhodes, piano) and many more.
Matt starts his album with the groovy Space Coastin'. The Space Coast is a region in the U.S. state of Florida around Kennedy Space Center, where the U.S. Air Force and NASA frequently launch rockets and shuttles into space. Matt has dedicated the song to his friends in Melbourne, Florida. This airy tune shows Matt's brilliance as guitar player. His magic on acoustic guitar is simply impressing.
The title song was written and produced by Carl Burnett, who also performs bass and some more instruments on this tune. Katisse (flute) and Matt compete in a perfect match. Hangin' At Humphreys is a familiar quotation for musicians performing in Humphreys Backstage Music Club or in Humphrey's Concerts by the Bay in San Diego. A place where Matt loves to be onstage.
Brotherhood conjures the friendship between all races. Matt dedicated this song to Martin Luther King and his great work. The intentional choice of some retro instruments like organ and rhodes gives this song its emotional and spiritual feeling.
Bruce Springsteen wrote the song I'm On Fire for his successful album Born in the U.S.A. (1982). Based on the original rockabilly beat makes Matt this legendary song to his own first as vocal later as instrumental tune. The tune Sanibel was inspired by Bakithi Kumalo, a bassist from South Africa, notable for working with Paul Simon as the backing bass player on Simon's album Graceland in 1986. Matt and his band adapted the typical township jive and South African guitar chords giving his album a world colored picture.
Old School is a nice message of greeting to friends of Lin Rountree's trumpet performance. Don't miss his new album Sumthin' Good (2008). Chuck's Groove highlights Matt's bluesy side. Sierra Sunset was inspired by a drive through Nevada. Matt catches the width and expense of this landscape in a dreamy guitar sound.
Drummer and keyboardist Carl "C-MAN" Anderson joined forces with Matt on Life Is A Mystery. A weird but highly interesting song with impressing sounds of keys and guitar. Carl is presently performing with Art Sherrod, Jr., Shang, Phillip Martin, Matt Marshak, Terri S. and The Zionnaires just to name a few. He also released a solo album Starting Out this year.
With Bratislava Bop (Marshak's dedication to The Bratislava Jazz Days Fest in Slovakia) Matt opens the door to chilly soundscapes in the style of 3rd Force. On West Coast Stranger Matt shows more of his airy guitar sound. Superb.
Matt's new album On The Rocks is full of new stirring ideas. For all lovers of stunning guitar music a real alternative.




Title: On The Rocks
Artist: Matt Marshak
Year: 2008
Length: 0:54:35
Genre: General Jazz
Label: Nuance Music Group

Tracks:

01 Space Coastin' [3:53]
02 On The Rocks [4:01]
03 Hangin' At Humphreys [4:20]
04 Brotherhood [4:36]
05 I'm On Fire [3:41]
06 Sanibel [6:20]
07 Old School [4:40]
08 Chuck's Groove [3:27]
09 Sierra Sunset [5:44]
10 I'm On Fire [3:37]
11 Life Is A Mystery [3:05]
12 Bratislava Bop [3:16]
13 West Coast Stranger [3:54]