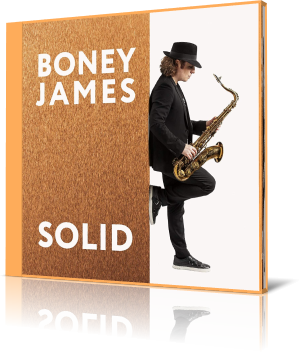 Saxophonist Boney James has released with Solid (2020) his seventeenth album as a leader. In free thought Boney links the term with his personal relationship, the groove, and also the relationship to his fans.

Boney James does not see himself as a one-man-producer and on his new album he has also recorded and processed impulses of his band members and musician friends.
Boney performs on the new album tenor sax, alto sax, soprano sax, flute, electric piano, keyboards, and drum programming. Additional musicians are Kendall Gilder (guitar), Carnell Harrell (acoustic piano, organ, keyboards), Michael Stever (flugelhorn, trumpet), Alex Al (bass), Omari Williams (drums), Lenny Castro (percussion), Smitty Smith (bass), Paul Jackson Jr. (guitar), Darrell Smith (piano, key bass, Moog, keyboards), Christian Frazier aka BeatsMadebyFresh (piano, drum programming, Jairus Mozee (guitar, bass, keyboards, drum programming, Kenny Lattimore (vocals) and Jason Morales, Drak-Kar V Wesley (background vocals).
Full Effect is the opener of the album, intense in dynamics and flow, present in melody and harmony. The title song includes all good ingredients for a perfect hit, a captivating melody, a stunning horn arrangement and a certain something, which I call the hit reminder.
The Bottom Line approaches the tradition of old jazz melodies, when jazz was still celebrated in smoky cellars. In ancient Roman religion and myth, Luna is the divine embodiment of the moon. Who loves the atmospheric and dreamy will appreciate this flavored mixture of vocals, sax and groove.

On The Path is a melody that could be offered to a singer without any change and this is exactly how Boney plays it. Boney also pursues this idea with the next song Be Here, which the gifted vocalist Kenny Lattimore helps to bloom.
Tonic is as refreshing and sparkling as the well-known drink.  Just So develops from Jairus Mozee's simple guitar riff into an impressive masterpiece. Especially during the summer time we need some Fresh Air. Boney confidently struts and delivers this cool breeze.

Sundance kicks of with a further finger-snapping and compelling melody, that will last the whole summer. On Last Train Home Boney and Jairus Mozee tie in with the music of the 80s and show alternatives to conventional smooth jazz.
Boney James presents on his album Solid fluid crispy melodies with an intensity you would wish for all albums of the smooth jazz genre.




Buy the album in all stores

Album Information

Title: Solid
Artist: Boney James
Year: 2020
Genre: Smooth Jazz
Label: Concord Music Group


1.   Full Effect  (3:52)
2.   Solid  (4:05)
3.   The Bottom Line  (3:52)
4.   Luna  (4:45)
5.   On The Path  (3:57)
6.   Be Here (featuring Kenny Lattimore)  (3:34)
7.   Tonic  (4:17)
8.   Just So  (3:39)
9.   Fresh Air  (3:43)
10.   Sundance  (3:50)
11.    Last Train Home  (4:42)

Reviews: