Boney James - Send One Your Love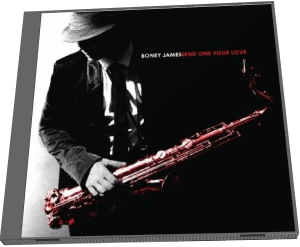 Boney James has a great fan community. His new album Send One Your Love claimed the top spot on the Billboard Contemporary Jazz Chart in its first week. What makes this musician so popular?
No, it's not his hat. Although he's his trademark. Maybe his early fusion of R&B and hip-hop with smooth jazz, we could observe in his albums Trust (1992), Backbone (1994), Seduction (1995), Sweet Thing/It's All Good (1998), Body Language (1999), Shake It Up w/Rick Braun (2000), Ride (2001), Pure (2004), and Shine (2006). Let's call it Urban Jazz. He also offered some Christmas albums like Boney's Funky Christmas (1996) and Christmas Present (2007).
On his new album Send One Your Love (2009) Boney offers a splendid mix of own compositions and covers, all produced and recorded by himself in various studios in and around L.A. and New York. The formula is recognized and so await nothing new, but much long-standing and well-tried.

Boney makes us curious with Wanna Show U Sumthin'. It's the flowing rhythm which makes this tune so appealing. Especially I like the turntable scratch as rhythm element. Boney perfectly adapts the rhythm for the smooth sax sound.
Stevie Wonder composed Send One Your Love for his album Journey through the Secret Life of Plants (1979). This song has never lost its attraction as shown in Boney's rendition. Stop, Look, Listen was a hit of The Stylistics in 1971 and is graced now by Boney's cover.
John Klemmer paved with his album Touch (1975) the path to the smooth jazz genre. Boney James' rendition is a homage to the groundbreaking tune of the doyen of smooth jazz.
Don't Let Me Be Lonely Tonight was released in 1972 by James Taylor on his album One Man Dog. James re-did this great song on Michael Brecker's Jazz CD Ballads that came out a few years ago. Boney James presents on his slow tempo cover the fantastic singer Quinn. Quinn was working as an Atlanta-based session singer. "I started asking friends if they knew a young singer who should be a star," Boney says. "I got Quinn's MP3 in an e-mail. The next day I flew him to L.A. and cut the track in two takes!"
Boney James own compositions like Hold On Tight stand in the new concept of this album. "I spent a lot of time figuring out what the order of the songs was going to be," James says. "I wanted this to be an album, not just a collection of songs. I wanted to tell a romantic story from the beginning to the end."

I'm Gonna Love You Just A Little Bit More Baby is another addition to the package of smooth jazz ballades. Some compare Boney's music with the seductive of Marvin Gaye and Barry White. So it was clear, that Boney would produce a cover of Barry's super hit.
The slow ballade City Of Light enjoys with mellow sax and Stefan Harris decent vibes. Soft as Butter melts the next romantic tune into your ears. The final tune I'll Be Good To You is a huge hit song by R&B duo The Brothers Johnson from their debut album, Look out for #1(1976). Later it was a new hit by Chaka Khan. Boney's cover is smooth and unobtrusive.
Boney James' new album has already found the way to his fans. Boney always knows to perform in a seductive and captivating way. This sultry blend of covers and originals keep you in the right mood.



Bio

Website

Buy the album in

Title: Send One Your Love
Artist: Boney James
Year: 2009
Length: 0:48:18
Genre: Smooth Jazz
Label: Concord Music Group


Tracks:
01 Wanna Show U Sumthin' [5:25]
02 Send One Your Love [4:35]
03 Stop, Look, Listen [4:57]
04 Touch [3:48]
05 Don't Let Me Be Lonely Tonight(Introducing Quinn) [4:17]
06 Hold On Tight [5:05]
07 I'm Gonna Love You Just A Little Bit More Baby [4:31]
08 City Of Light [5:24]
09 Butter [5:05]
10 I'll Be Good To You [5:11]