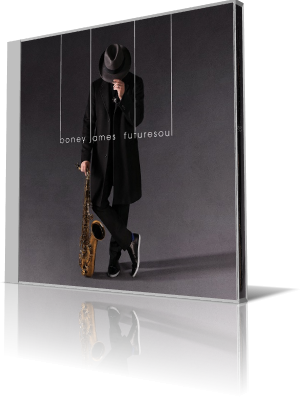 Four-time GRAMMY nominee and multi-platinum selling Boney James is a true smooth jazz superstar. His 15th CD, futuresoul contains 10 original songs produced and written or co-written by James and is one of the rare chart-topper on Billboard holding the #1 for more than 10 weeks.
The list of participating artists is huge. Among them are famous names such as bassists Alex Al and Dwayne "Smitty" Smith, percussionist Lenny Castro, drummer Vinnie Colaiuta, keyboardist Phil Davis, pianist Gerald McCauley, and many more.
To keep the interest of the audience awake, it is crucial for a musician to constantly reinvent himself. Boney James has internalized this wisdom. On Drumline he combines shuffle beat, with a strong bass line in support of his saxophone presentation.
Vinyl is a emotional tribute to the music of the 80s with a historic-looking horn arrangement. A Little Attitude is something of understatement. A massive horn bombardment brings the listener in the right mood. The smart Watchu Gon' Do About It? allures with Boney sax and vocalist Nikeita Crichlow.
Singer Stokley Williams, best known as the lead singer and studio drummer of the band Mint Condition, goes in front on Either Way, a tender and gentle love ballade. With great fervor Boney James celebrates Hand in Hand. The gospel-like character is underlined by Tim Carmon on the Hammond B3. Esoteric atmosphere surrounds a Fortuneteller. This aura of mystery is captured fantastically beautiful by Boney.
The Moment is devoted to the instant that contains the special flavor or the magic of the encounter between two lovers. Futuresoul is a term already used for a style of soul and contemporary R&B. Boney seizes the phrase for his title song, which is equipped with a lot of groove. Final song is the melancholic Far From Home featuring Marquis Hill on trumpet in duet with the sax man.
Boney James has not reinvented the wheel. But futuresoul is without a doubt one of the better productions of the year and it grooves immensely.




Biography

Website


Buy the album in all stores

Album Information


Title: Futuresoul
Artist: Boney James
Year: 2015
Length: 0:41:29
Genre: General Jazz
Label: InAkustik


Tracks:
01 Drumline [4:18]
02 Vinyl [4:07]
03 A Little Attitude [4:02]
04 Watchu Gon' Do About It? [3:39]
05 Either Way [4:08]
06 Hand In Hand [3:53]
07 Fortuneteller [4:35]
08 The Moment [4:24]
09 futuresoul [4:07]
10 Far From Home [4:16]


Artists

Alex Al Bass
Rob Bacon Guitar
Nutty P Beats Drum Programming, Producer, Synthesizer, Synthesizer Bass
Boney James Drum Programming, Engineer, Keyboard Bass, Keyboards, Piano, Primary Artist, Producer, Sax (Alto), Sax (Soprano), Sax (Tenor)
Craig Brockman Keyboards
Tim Carmon Fills, Hammond B3, Piano
Lenny Castro Percussion
Vinnie Colaiuta Drums
Nikeita Crichlow vocals (Background)
Phil Davis Keyboards
Dwele Drum Programming, Keyboards, Producer
Keenan Ephriam Drum Programming, Drums
Marquis Hill Featured Artist, Trumpet
Gerald McCauley Piano (Electric), Producer, Synthaxe
Jarius Mozee Bass, Drum Programming, Guitar, Keyboards, Producer
Darrell Smith Drum Programming, Keyboard Bass, Keyboards, Producer
Dwayne "Smitty" Smith Bass
Stokley Featured Artist, Vocals
Omari Williams Drums, Toms

Further Reviews