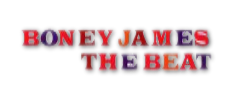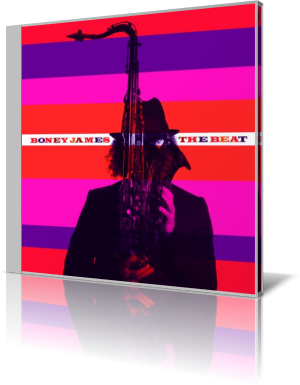 Economic yield says little about the qualities of a musician. Four gold albums, three Grammy nominations and sales totaling more than 3 million records, nevertheless speak for themselves. Boney James is without any doubt a smooth jazz superstar.
Meet with each new release the expectations of his fans, is no easy task. Even so Boney James has made this object once more with his album The Beat, scheduled for release April 9, 2013 on Concord Records.
The qualitative implementation of his musical ideas ensure musicians like Brandon Coleman (keyboards), Vinnie Colaiuta and Omari Williams (drums), Lenny Castro (percussion), Rob Bacon and Jairus Mozee (guitar), Dwayne Smith and Alex Al (bass), Richard Braun (trumpet) and many more.
With Stevie Wonder's smash hit Don't You Worry 'Bout A Thing James goes on the safe side. By nature this song covers a wide array of popular styles from pop to Latin music and is a rousing self-propelling piece.
With Sunset Boulevard Boney proves that he can write and play compelling grooves. The love ballade Missing You features soul singer Abi Mancha. Boney has worked out the song with great attention to detail. Examples are the distinctive synth bass, Lenny Castro's subtle percussion and the skilful use of vocals.
Sergio Mendes' Batucada (The Beat) provides for Boney James and Rick Braun the ideal platform to really blow off steam. Maker Of Love is an R&B song with Grammy nominated vocalist Raheem DeVaughn in the lead role. Keyboardist and programmer Phil Davis provides the stylistic authenticity.
Mari's Song comes like a light spring breeze. Full of aromatic scents and sounds, he charms with his own unobtrusiveness. James proudly calls his next song Powerhouse and he's absolutely right. A rhythm-driven melody quickly captivating the listener.
The Midas (This Is Why) is featuring U.K. poet/musician The Floacist from the duo Floetry. "I just wanted a spoken word thing," comments James. "Between its R&B groove, the shaker and conga percussion plus her Euro coffeehouse feel, the track adds to the album's world music flavor."
When a piece like the gentle Acalento (Lullaby) just rises out of the pen of this gifted saxophonist, then one can only be impressed by his power of creation. Apodictically James promises in his final You Can Count On Me. After his car accident when his car totaled and James suffered a fractured jaw, lost two teeth as well as the ability to play for two months, many feared the end of his career. Thankfully, these fears have not materialized.
So we can look forward to many more releases of this blessed artist. The Beat evokes joyful expectations.




Biography

Website


Buy the album in all stores

Album Information

Title: The Beat
Artist: Boney James
Year: 2013
Length: 0:42:08
Genre: General Jazz
Label: Concord Records

Tracks:

01 Don't You Worry 'Bout A Thing [4:57]
02 Sunset Boulevard [4:08]
03 Missing You [3:38]
04 Batucada (The Beat) [4:03]
05 Maker Of Love [3:48]
06 Mari's Song [4:28]
07 Powerhouse [4:00]
08 The Midas (This Is Why) [4:03]
09 Acalento (Lullaby) [4:04]
10 You Can Count On Me [4:58]


Further Reviews