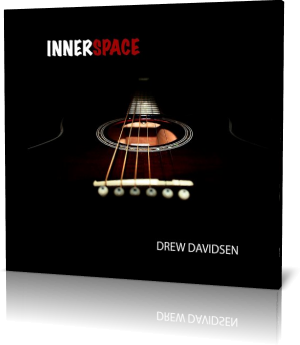 Guitarist Drew Davidsen started in 2007 his solo career with This Journey. Soon followed Around (Again) (2009), We 3 Stringz (2010), Spin Cycle (2011), True Drew (2013), and A Good Life (2017). With InnerSpace (2018) Drew returns to the smooth jazz genre.
The new album is the product of a collaboration between Drew and producer, multi-instrumentalist Cedric Givens. At the center of the album, of course, is Drew's electric guitar, for which Cedric creates a sensitive arrangement and instrumental environment.
The name of the label is NemBleu. Insiders will know, that guitarist Roberto Tyson and multi-instrumentalist Cedric Givens were members of the duo Nemesis Blue, which released in 1997 the album Imagination. Later they formed together with bassist Cheikh Ndoye the band N-Groove releasing the album It's Who We Are (2007).
Drew shines with sonic guitar chords on InnerSpace proving that he is the guitar man for the finest smooth jazz sound. Thrust is embedded in a rhythmical mélange and sax lines while Drew's guitar waves between non reverb and reverb.
Bumpin is based on a synth bass groove, which dominates the game. Sax, keys and guitar partly with distortion circle around this rhythmic theme like satellites. Overdrive leads interestingly the melodic smooth jazz style that is generated by the acoustic guitar, with elements of rock together. That way smooth and edgy, in itself two opposites give the whole thing a certain spice.
My personal favorite of this project is UpTime, an acoustic guitar theme with a hooking melody perfectly underlined with subtle keyboard motif. Laid Back reduces the tempo and the dynamic to a relaxed musical attitude. My Lullaby unites melody and countermelody to a flawless harmony. The accompanying instruments play in secondary colors and leave the main theme in full glory.
Lately Dave Koz gave the advice to young musicians, to follow their passion, their bliss, everything their spirit lights up. Drew Davidsen and Cedric Givens are certainly inspired by the same impetus. Innerspace is a musical sign of positivity, that what the world needs now.




Biography

Website


Buy the album in all stores

Album Information

Title: InnerSpace
Artist: Drew Davidsen
Year: 2018
Genre: Smooth Jazz
Label: Nembleu


Tracks:

1 InnerSpace 3:46
2 Thrust 4:26
3 Bumpin 4:38
4 Overdrive 3:24
5 UpTime 4:07
6 Laid Back 3:58
7 My Lullaby 3:31




Further reviews: