Drew Davidsen – Around (Again)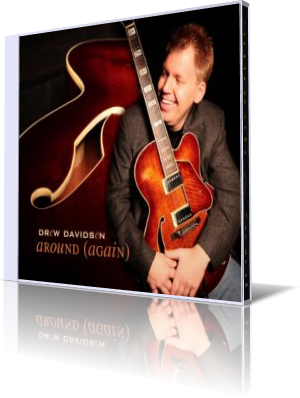 Hailing from Towson, Maryland Drew Davidsen has showcased his guitar skills on more than 30 projects. He started his solo career with the album This Journey in 2007. A project dedicated to smooth jazz and his idols George Benson, Larry Carlton and Les Sabler.
His affinity for Ibanez guitars is clearly listenable on his sophomore album Around (Again) (2009). Produced by Eric Copeland for Creative Soul Jazz Drew's new album offers besides session players like Dan Needham (drums), Gary Lunn (bass), Tony Morra (drums), Dave Krug (sax) and John Hammond (drums) guest musicians like Gerald Veasley (bass) and Jay Rowe (piano). A great part of the album was performed by Eric Copeland (keys, vocals, programming).
With mellow tones introduces Drew into his new project. Guitar, keyboard and piano form on Bounce a perfect sound. Drew and Eric compete for the ultimate song.
The title tune offers an uplifting twist featuring Dave Krug on sax. Baltimore resident Dave Krug who already supported Drew Davidsen on his debut album has played live and recorded with several groups and artists, all of which have influenced his musical preferences and style.
With Going Coastal Drew approaches the coastal line of smooth jazz. His sultry guitar style is the perfect medium for his song ideas. The song Astro is already a hot runner on many radio stations. You can buy the single at CDBaby since several weeks. The propelling rhythm and Drew's guitar performance will certainly enthuse the audience.
The reggae influenced Island Blues conjures pictures of sun, water, beaches and the whole Caribbean flair. Smooth Jazz cruisers, you know what I mean. Drew is a musical painter as Road Trip reveals. Musicians are often on the road to reach their audience and so it's a natural process to become a vagabond in the best sense. Where can you get better impressions?
The romantic ballade Only 4 U is for honeymooners and all other lovers, a composition by Eric Copeland. Plus 12 shows more of Eric's intelligent arrangement and Drew's fantastic talent as composer and guitarist. An unbeatable duo. Superb Gary Lunn's bass solo adding the icing on the cake.
Friend is Eric's precious gift to his friend Drew. A wonderful composition exclusively written for Drew's guitar and Drew perfectly stages the melody. All ends with a Smile. Drew's guitar chords flow nicely together.
With his sophomore album Around (Again) Drew Davidsen killed two birds with one stone: he and his friends had great fun in recording this album and showered their audience with an awesome acoustical present.




Drew Davidsen - Website



Buy the album




Album Information

Title: Around (Again)
Artist: Drew Davidsen
Year: 2009
Length: 0:45:42
Genre: Smooth Jazz
Label: Creative Soul Jazz


Tracks:

01 Bounce [4:49]
02 Around (Again) [4:07]
03 Going Coastal [4:22]
04 Astro [4:33]
05 Island Blues [3:58]
06 Road Trip [4:13]
07 Only 4 U [4:31]
08 Plus 12 [4:35]
09 Friend [5:10]
10 Smile [5:23]