Drew Davidsen - This Journey ...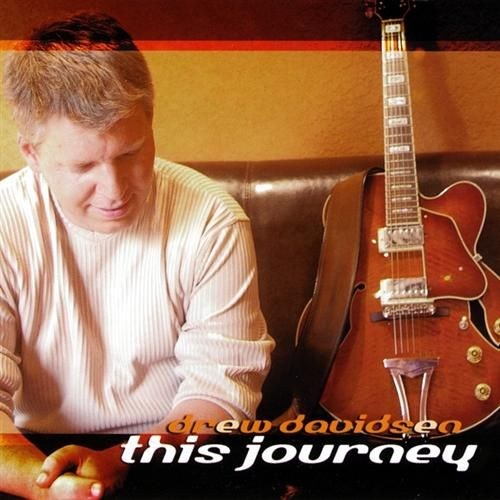 Drew Davidsen was since 1995 lead guitarist of the Richard Walton Group, a combo out of Baltimore and beyond. The range of styles is from smooth jazz, adult contemporary and soft rock especially. Drew performed on their albums Hear And Now, Junction, Vessel and Live At The Blues Alley.
In 2007 Drew released his debut solo album entitled This Journey. Drew comments: "Ever since I was a little boy I can remember having a special feeling toward music of all kinds. My Dad took me to see so many great artists like Ray Charles, BB King, and many more. One particular trip to Nashville sticks out in my mind, because this was when I knew I was called to do ´Smooth Jazz´. Really I am called to be me. That turns out to be Smooth Jazz."

Drews' influential musicians are George Benson, Larry Carlton and Les Sabler. So Drew has a special affinity for Ibanez guitars. The sound of guitars we know by George Benson. On his solo album Drew is accompanied by Dave Krug (sax) and Eric Washington (keys).
The album starts with Take It To The MaXX with Drew's splendid guitar performance garnered with flourishing keyboard and sax sounds. After a short portrayal of the melody Drew develops his special solo.
He has a good hand for captivating melodies as he shows on Full Circle. Drew's guitar and Dave's sax are sharing the main parts of the melody with a nice interactivity. The Spanish flavored This Journey awakes with interesting key changes the attention of the listener.
Flip Side reveals more of Dave Krug's sax and Drew Davidsen's power station with creations of reverb, overdubbing and more. The up-tempo Straight Up has an appealing beat with an uplifting force, which really fits in a perfect manner with the previous songs.
The synth intro of Nylon Rain associates some techno feelings but Drew stays with his mellow guitar chords firmly in the smooth jazz genre. The slow Introspective offers contemplative moments for the more or less attentive listener. Just dream along the melody.
Heavy drum programming is the counterpart to Drew's melodious guitar performance on A Long Way Home. Dave Krug's sax play is a summit of emotions. 2 After 12 accelerates the tempo to a hot beat. The bridge pays tribute to the distorted guitar of Carlos Santana.
Vision Quest grants some recreation for the pleasure-loving audience with different styles. The Irish folk accentuated flute, the reverb oriented guitar and Dave's jazzy sax with jazz fusion elements come together to a boundless mix.
On Little Wing Drew shows his skills as Blues guitarist. A good melody is more important than stylish exaggerations. In the bridge Drew bursts out to a Jimi-Hendrix-like distortion model. Drew finishes the album with his own up-tempo and edgy vision of Amazing Grace.
This Journey just started. High talented guitarist Drew Davidsen has the best conditions for a career in the smooth jazz genre.



Bio

Website

Buy the album at


Title: This Journey...
Artist: Drew Davidsen
Year: 2007
Length: 0:51:23
Genre: General Jazz
Label: Oznot Music

Tracks:

01 Take It To The MaXX [4:21]
02 Full Circle [4:15]
03 This Journey [4:20]
04 Flip Side [4:25]
05 Straight Up [3:20]
06 Nylon Rain [4:21]
07 Introspective [4:33]
08 A Long Way Home [4:16]
09 2 After 12 [4:14]
10 Vision Quest [4:02]
11 Little Wing [4:50]
12 Amazing [4:26]