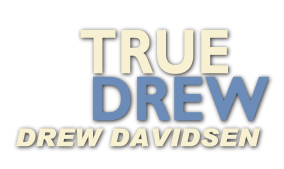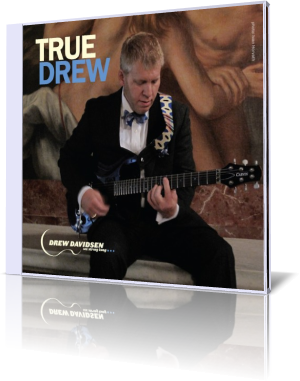 Guitarist Drew Davidsen is a constant contributor to the smooth jazz genre. After the release of his debut solo album This Journey (2007), followed Around (Again) (2009), We 3 Stringz (2010) and Spin Cycle (2011). Now he is back with True Drew (2013).
The album was co-produced by Eric Copeland, Norman Connors, Preston Glass and Drew himself. He was joined by numerous top-notch musicians like Bobby Lyle, Eric Marienthal, Gerald Veasley and many more.
What else can be the focus of a guitar album as the guitar? So Drew presents us My Guitar in an infectious mix of guitar and vocals. By the way he performs on a solid-body 24-fret Carvin.
95 South is a Wes inspired tune with a propulsive rhythm. John Hammond had great fun in drumming on this piece. On Hi5 develops a beautiful harmony between Drews guitar and Pat Coil's piano.
Double Or Nothin' is a happy going song featuring Bob Baldwin & Alan Blackman as star musicians. With All Night And Forever Davidsen presents a tribute to his eternal guitar hero George Benson. Alvin Fisher adds with his flute a special note. With Eric Marienthal's powerful sax support and Gary Lunn's deep bass comes Sweet Spot.
The Earl Klugh inspired I'm Into You features the Temptations very own Ron Tyson. The Eric Copeland tune Do Right gives Drew a good opportunity to let his guitar run wild. Stevie Wonder wrote I Can't Help It for Michael Jackson's album Off The Wall. On a concert in Montreal in 2009 Stevie said: "We keep his spirit alive for ever." How can this principle be better achieved than through Drew's own contribution.
Clapton's Change The World already infected Gerald Albright and Roger Smith to jazz-up interpretations. With the help of Bobby Lyles' vintage organ Drew creates a very personal rendition. With All Creatures he thrills audiences at the acoustic front. Davidsen closes the album with the tune Give Me Your Heart, originally performed by Bobby Lyle and Norman Brown on Lyle's album Joyful (2002). On Drew's version piano and guitar reach a harmonious balance.
Drew Davidsen has taken with True Drew a further step towards professionalism and especially proved his musical teamwork.




Biography

Website


Buy the album in all stores

Album Information

Title: True Drew
Artist: Drew Davidsen
Year: 2013
Length: 0:52:47
Genre: Smooth Jazz
Label: Oznot Records


Tracks:

01 My Guitar [4:24]
02 95 South [4:22]
03 Hi5 (Featuring Pat Coil) [3:47]
04 Double Or Nothin' (Featuring Bob Baldwin & Alan Blackman) [4:46]
05 All Night And Forever [4:06]
06 Sweet Spot (Featuring Eric Marienthal) [4:04]
07 I'm Into You (Featuring Ron Tyson) [4:02]
08 Do Right [3:57]
09 I Can't Help It (Featuring Bobby Lyle) [4:21]
10 Change The World (Featuring Bobby Lyle & Gerald Veasley) [4:54]
11 All Creatures (Featuring Jonathan Crone) [4:19]
12 Give Me Your Heart (Featuring Bobby Lyle) [5:44]


Further reviews: