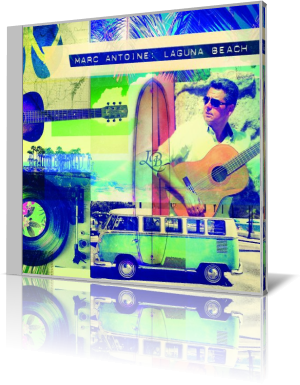 Born in Paris later resident in Madrid now living near L.A. guitarist Marc Antoine is a global citizen in the true sense of word. His object of desire is specifically his new hometown Laguna Beach (2016).
This place to live is now in the center of his interest and thematic core of his new project. To fulfill his musical dream he got help from Gorden Campbell (drums), Roberto Vally (upright bass), Marco Basci (keyboards), furthermore bassist Armand Sabal-Lecco, saxophonist Greg Vail, percussionists Gumbi Ortiz and Richie Gajate Garcia, and special guests Philippe Saisse (keyboards on "Why Not," "Deixa" and "New Morning"), Paul Brown (electric guitar solo on "This and That"), Rick Braun (trumpet on "Minority") and Dutch harmonica master Tim Welvaars (on "Deixa").
The musical journey begins with Why Not, the fusion point of acoustic guitar of Spanish heritage and the bluesy jazz. That acoustic guitar fits to contemporary jazz horns and piano one can hear note for note.
On This And That Marc allows another string to sound, we may better know by Jonathan Butler. This is South African swing and Paul Brown adds his warm electric guitar to Marc's steel string guitar. Laguna Beach is his tribute to the vivid place in South California, where so many smooth jazz musicians are at home.
Deixa is the Portuguese word for "letting go". An effortlessly played Samba, which could easily be located in Brazil. Gives melancholy more depth to the guitar playing? Minority searches this approach featuring Rick Braun on muted trumpet.
Romantico seems to be a stereotypic title for a Latin Jazz tune with the instrumentation of a Tango, where acoustic guitar meets bandoneon. But there is the flair of dancing and romancing which makes it so accessible. With a sonic High Five Marc builds a cheerful, lively and magnificently fashioned connection to smooth jazz.
New Morning is a swinging Bossa Nova wake up call without any pretentious attitudes spreading pure happiness. The title Twice Upon A Time is a sophisticated alteration of Once Upon A Time, the begin of all fairy tales. In this special case the access into the sound universe of classical music.
With Laguna Beach Marc Antoine creates a portrayal of his personality as modern-day musician. His album combines masterly historical flavor and the delicacy of contemporary jazz.




Biography

Website


Buy the album in all stores

Album Information

Title: Laguna Beach
Artist: Marc Antoine
Year: 2016
Length: 0:36:27
Genre: General Jazz
Label: Woodward Avenue Records

Tracks:
01 Why Not [3:27]
02 This And That [3:29]
03 Laguna Beach [3:46]
04 Deixa [3:58]
05 Minority [4:20]
06 Romantico [4:40]
07 High Five [4:36]
08 New Morning [3:42]
09 Twice Upon A Time [4:30]





Further Reviews:

Hi-Lo Split

Mediterrano

ForeignXchange

My Classical Way

My Classical Way