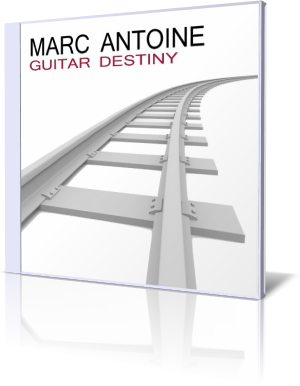 Born in Paris residing in Spain guitarist Marc Antoine considers himself as a world citizen. Even though the roots of his work are in Spain, he works with artists from all over the world and is often on a global tour.
His new album Guitar Destiny (2012) makes an eloquent testimony for his attitude. He invited many International musicians like Philippe Saisse, Oli Sik, Warren Hill, Louis Conté and more to share his recordings.
His project is inspired by his many travels and musical destiny. Marc has written all songs but received with great gratitude the musical contributions of his fellow musicians.
Like It Once Was is Marc Antoine's flashback to happy moments of Brazilian carnival. Driven by a Samba rhythm Marc lets his guitar sing. Lutece is the French name of Lutetia, the romaine name of Paris. The slow Lutece Tango reminds of the old quarter of Montmartre.
Antoine ties with Montuno Bay to the Cuban style, who has settled in the particular area of Cuba and also Miami. The Spanish flavored Alegria allures with a haunting melody and an enthralling rhythm. On the melancholic Red Sky Christophe Goze unfolds his wizardry on the fluteoder guitar. This is a midi guitar, which is connected to a synth and triggered by Goze via a vocoder mouthpiece. That way he can modulate the tone into a foggy soundscape.
It's the time of Midnight. The time, when the magic of the moment is reflected in the Moon. Antoine captures this mysterious hour in the emotional Medianoche. Antoine already introduced Spanish motifs in the center of his music on the album Madrid. With Mi Pueblo he returns to the nucleus of his musical interest, complex in construction nevertheless full of suspense.
Circus Afternoon is another gorgeous melody, Antoine offers so plentifully. On this track he performs all instruments. During the Smooth Jazz Festival on Mallorca he invited Warren Hill to record a tune with him. Jazz It Up! is this tune and there is much jazz to listen too. Ojos De Caramelo (Eye Candy) should more likely be called Ear Candy. A simple melody nevertheless spreads its charm.
With his new album Marc Antoine has refined his own style. Not that you would not recognize him long ago on his guitar sound, with the raising complexity of his songs he sets new standards.




Biography

Website


Buy the album in all stores

Album Information

Title: Guitar Destiny
Artist: Marc Antoine
Year: 2012
Length: 0:43:41
Genre: General Jazz
Label: Frazzy Frog Music


Tracks:

01 Like It Once Was [4:24]
02 Lutece Tango [4:32]
03 Montuno Bay [3:53]
04 Alegria [4:52]
05 Red Sky [5:06]
06 Medianoche [4:11]
07 Mi Pueblo [3:49]
08 Circus Afternoon [5:08]
09 Jazz It Up! [3:29]
10 Ojos De Caramelo [4:17]




Further Reviews:

Hi-Lo Split

Mediterrano

ForeignXchange

My Classical Way

My Classical Way