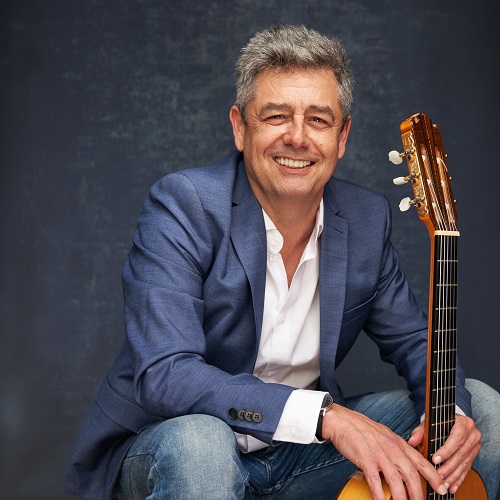 Marc Antoine



Since emerging as a force in contemporary jazz in the mid-90s with a trademark sound captured in the title of his debut album Classical Soul, Marc Antoine has shared his joyous musical wanderlust on a discography infused with extraordinary exotic journeys. After living and recording in Madrid – his wife Rebecca's hometown – for 12 years, the multi-talented Parisian born acoustic guitarist relocated back to Southern California in 2015. While keeping his deep melodic flow and exotic textures front and center, he shares the lighthearted spirit of his exciting new life on his highly anticipated Woodward Avenue Records debut, an homage to his new hometown of Laguna Beach.



Though he recorded some of his most acclaimed recordings while living in Spain – including Hi-Lo Split, My Classical Way, Guitar Destiny and Foreign Xchange, his dual guitar album with current Woodward Avenue labelmate Paul Brown – Antoine often felt stylistically limited when working with locals who were versed mostly in pop and flamenco. He deeply missed the kind of versatility of his musician friends that lived in California, and the camaraderie they shared. Though he began a handful of the nine tracks at his home studio in Madrid, Antoine – who plays nylon string, steel string, electric guitar, keyboards and percussion – was excited and freshly inspired by the musicians he invited to play on Laguna Beach.





In addition to the core rhythm section of Gorden Campbell (drums), Roberto Vally (upright bass) and keyboardist Marco Basci (keyboards) – a unit that Brown (who mixed the album) calls the modern day equivalent of the classic 60's-70's pop session unit "The Wrecking Crew" – the guitarist vibes with bassist Armand Sabal-Lecco, saxophonist (and new neighbor!) Greg Vail, percussionists Gumbi Ortiz and Richie Gajate Garcia, and special guests Philippe Saisse (keyboards on "Why Not," "Deixa" and "New Morning"), Brown (electric guitar solo on "This and That"), Rick Braun (trumpet on "Minority") and Dutch harmonica master Tim Welvaars (on "Deixa").



"

When you live near L.A., you can call anyone to come and work with you," says Antoine, who tracked the all live sessions for Laguna Beach in a variety of rooms. "Once I built my new studio over here, fired it up and began working on new material, I knew I just had to make a few phone calls to get the right guys to play on it. Like many of my recordings, the album is marked by a cool stylistic diversity. I guess if I ever settled for a single style and did a blues or bossa nova record, it would be great, but as with my tours and travels, I'm never in the same place all the time. I love Latin music, Cuban, the Brazilian vibes of Joao Gilberto and Stan Getz, brassy and funky Steely Dannish like the new tune 'Why Not.' It's good to have a funky jam, then a ballad, then something more ethnic. Maybe for some folks it's too many styles, but my guitar is the connector between tunes. It's the same guy, same soul playing all that, touching on a little bit of everything. I like to say, I can't eat the same meal every night, and I can't play the same music either."





One of the most remarkable aspects of Antoine's return to recording four years after the release of his previous album Guitar Destiny is his incredible recovery from two major health scares. In 2012, he had major heart surgery to fix a debilitating atrial fibrillation issue, and then in 2014, after several misdiagnoses, he had surgery to relieve cramping in his hand caused by a condition called "Triggered Finger." One of his fingers on his left hand kept getting stuck in an odd position, causing unbearable pain when he would play the guitar. Fans will be delighted to know that Antoine, having survived these physical challenges, has never felt more energized, musically and otherwise, in his life.





Classically trained at the International School of Classical Guitar, Antoine first became known to urban jazz audiences when he toured with Basia in 1988. After several years recording and performing what was then known as "acid jazz," he endeared himself to a generation of contemporary jazz fans with his first solo album, Classical Soul. He later scored numerous airplay hits from the albums which have established him as a mainstay in the genre: Urban Gypsy (1995), Madrid (1998), Universal Language (2000), Cruisin' (2001), The Very Best Of Marc Antoine (2002), Mediterraneo (2003) and Modern Times (2005). He has appeared on numerous albums for other artists (Saisse, Braun, Jim Brickman, David Benoit, Dave Koz, Mindi Abair, ) and has been featured in many of the annual Guitars & Saxes all-star tours and jazz cruises.