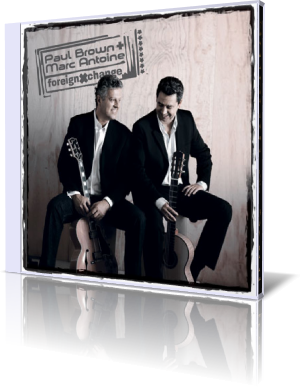 Paul Brown and Marc Antoine. Two guitarists with different résumés but same interests. Marc, a globetrotter between France, Spain, UK and USA, has performed in the past with Basia, SoulIISoul, Guru's Jazzmatazz, The Solsonics, Queen Latifah, acid jazz DJ GreyHoy, Rick Braun, Sting and the late Selena. Paul Brown is the producer per se in the smooth jazz genre. He performed with Al Jarreau, Boney James, Jeffery Osborne, Kirk Whalum, Larry Carlton, George Benson, Patti Austin and many more.

Paul's solo projects are Up Front (2004), followed by The City (2005) and White Sand (2007). Marc Antoine's albums are Classical Soul (1994), Urban Gypsy (1995), Madrid (1998), Universal Language (2000), Cruisin' (2001), The Very Best of Marc Antoine (2002), Mediterraneo (2003) and Modern Times (2005).

Both guitarists performed together at Paul Brown's Guitar Night in 2008, which was the reason for Paul's invitation to join his next recording. The official comment: "This initial session sparked a dynamic, complementary creative flow that developed into a fruitful new partnership, giving rise to the magical give and take of Foreign Exchange."
Further artists joined this project: Jeff Carruthers (drums, keys, guitars), Dan Lutz (bass), Philippe Saisse (keys), Roberto Vally (bass), Jerry Hey (trumpet), Bill Reichenbach (trombone), Dan Higgins (sax), Lenny Castro (percussion), Tommy Kay (rhythm guitar) and Jessy J (flute).

On the starting Feel The Love Paul Brown and Marc Antoine define a new interplay between nylon string and electric guitars. As a duo or in a changing interaction both reach a new level of perfection. "We have both enjoyed successful careers as solo artists, but I believe Foreign Exchange was a labor of love that took our artistry to the next level," says Antoine. "We put our hearts and souls into the music and feel very strongly that our fans are going to be as excited about these songs as we are."
The funky groove Wine Night features Philippe Saisse on keys. Paul and Marc are inspired by George Benson's sensual 'guitarized' humming style. Impressive the dialogue between keys and guitars. Do you feel the balmy breezes while listening to the samba Flight Of The Conchords? The title is a pun, on both "Flight of the Condor" and the Concorde (as in the plane) taken from an Emmy Award-nominated television comedy series.
The propelling Foreign Exchange sets the audience in a positive mood. Best choice for a sunny day. Great guitar melody and Jerry Hey's horns are superb. Jerry is best known by his terrific performance for Quincey Jones' version of Birdland. Brother Earl is an homage to recently departed legendary session drummer Earl Palmer. The straight melody is enriched with a strong horn background and sophisticated insert keys.
On The Down Low presents Paul and Marc in best condition. Don't search the liner notes after the magical flutist, it's Philippe Saisse simulating the flute on synth. French Connection is again in a Benson-like manner. Lush licks and chords with a rich reverb backed by a powerful horn section.
What about Bob is the question. Antoine's answer: "An ode about his neighbor in Laurel Canyon when he and Brown worked together 20 years ago". Sweetness is featuring maestro of percussion Lenny Castro. He refines every song, even this great melody. If you ever have the chance to visit Paris, take it. It's the special flavor of the capital city of France situated at the Seine wonderfully incorporated by Bridges Of Paris.
Foreign Exchange is not only an album with a great attraction. It's also a project of Paul and Marc which will be multiplied in many gigs this year. Watch out the new guitar duo.

Bios

The

website

s


CD available in


Title: ForeignXchange
Artist: Paul Brown + Marc Antoine
Year: 2009
Length: 0:40:41
Genre: Smooth Jazz
Label: Peak Records


Tracks:

01 Feel The Love [4:34]
02 Wine Night [4:01]
03 Flight Of The Conchords [3:50]
04 Foreign Exchange [4:04]
05 Brother Earl [3:36]
06 On The Down Low [4:22]
07 French Connection [4:04]
08 What About Bob [4:11]
09 Sweetness [3:46]
10 Bridges Of Paris [4:13]