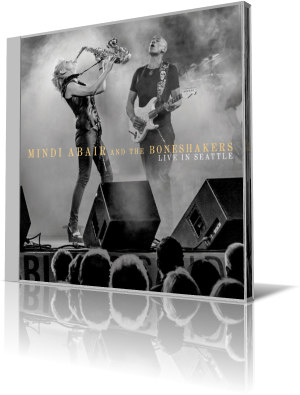 Sax player Mindi Abair started her solo career with the debut album Always And Never The Same (1999), followed by It Just Happens That Way (2003), Come As You Are (2004), Life Less Ordinary (2006), Stars (2008), In Hi-Fi Stereo (2010) and Wild Heart (2014).
Together with Peter White and Rick Braun she released Peter White Christmas (2007), with Dave Koz, Gerald Albright and Richard Elliot Summer Horns (2013) and this year with the Boneshakers Live In Seattle.
In previous years Mindi Abair's musical field of activity settled in the smooth jazz genre. That changed, when she joined Aerosmith for their 2012 Summer Tour and Bruce Springsteen and Max Weinberg for a night at the Beacon Theater. Infected by the Rock music virus her music became edgier. Mindi comments: "From touring with Aerosmith to getting to sit in with Bruce Springsteen for a song, those experiences gave me the permission to go a little more rootsy, and I'm going to run with it!″
Mindi has a connection to Randy Jacobs and the Boneshakers since several years. She performed for example on Randy's albums From Me To You (2005) and Rhythm And The Beat (2013). So it was a natural development to produce together an album, which was recorded live at Jazz Alley over Valentine's Day weekend. Together with Mindi and Randy are performing vocalist Sweet Pea Atkinson, pianist and organist Rodney Lee, bassist Derek Frank and drummer Third Richardson.
The album starts with Here She Comes, an overall powerful introduction. And the power goes on with Wild Heart from the same named album. Mindi's saxophone playing is extremely forceful and energetic. Haut Sauce makes it a slice stronger. Undoubtedly Mindi has also vocal quality as she shows with the confident rock piece I Can't Lose.
The vocal interlude Bring Him On makes a bridge to the blues tune Bell And Chain with a strong horn section and distorted guitar sound. Randy Jacobs and Sweet Pea Atkinson duets in the blues style of John Lee Hooker. David Ryan Harris wrote Be Beautiful for his album Soulstice (2004). Mindi, a longtime friend of David, fall in love with this song and recorded the song for her album In Hi-Fi Stereo. This live version has significantly more meat on the bones.
With Gone vocalist Mindi walks further the bluesy way with a story about a disenchanted lover. "Not every day you have the chance to write a song with an icon.″ With these words Mindi introduces the song Make It Happen, she created with Booker T. Jones. Indeed organ and sax are the melody maker of this track. Her song Bloom from the album Life Less Ordinary (2006) fits the smooth jazz realm, but Randy peppers it up with burly rock riffs.
Home is where your heart is. I'll Be Your Home from the album Wild Heart feels more authentic than the original album version. Blues has the right wire to emotion. The extensive rendition of Gershwin's Summertime is certainly one of the rawest I ever experienced. Flirt from Mindi's album It Just Happens That Way grows in a new dimension. That begins with Randy Jacobs' funky guitar intro, which reminds me of Sly's Thank You (Falettinme Be Mice Elf Again), and ends into an exuberant piece.
Final tune of the concert is a cover of James Brown's Cold Sweat with a Mindi Abair so shining in the rock and blues genre that some will doubt her return to smooth jazz.
Mindi Abair and the Boneshakers' Live In Seattle is for those who know Mindi's evolution, a great confirmation, for others a revelation and a consolation prize for all who missed her concert.




Buy the album in all stores

Album Information

Title: Live In Seattle
Artist: Mindi Abair and the Boneshakers
Year: 2015
Length: 1:13:45
Genre: General Jazz
Label: Heads Up


Tracks:
01 Here She Comes [Live] [1:09]
02 Wild Heart [Live] [4:37]
03 Haute Sauce [Live] [7:51]
04 I Can't Lose [Live] [4:12]
05 Bring Him On [Live] [1:21]
06 Ball And Chain [Live] [4:36]
07 Be Beautiful [Live] [7:06]
08 Gone [Live] [3:34]
09 Make It Happen [Live] [6:14]
10 Bloom [Live] [4:58]
11 I'll Be Your Home [Live] [5:17]
12 Summertime [Live] [7:36]
13 Flirt [Live] [7:02]
14 Cold Sweat [Live] [8:14]




Further reviews:

Wild Heart


Dave Koz and Friends - Summer Horns


Mindi Abair And The Boneshakers - Live In Seattle

Peter White, Rick Braun, Mindi Abair - Peter White Christmas