Peter White Christmas
Peter White
ARTizen
Release Date: September 25, 2007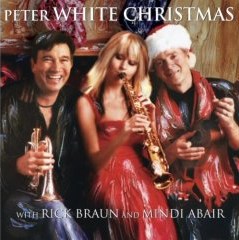 Lively, wholesome and up to Peter White standards, this commemorative album which preempts the annual Christmas show tour leaves listeners in more than the Christmas spirit. It is a replica of A Peter White Christmas, the now famous Christmas show that tours for almost a full month to multiple venues across the United States during the holiday season.

In sync with Peter are his show sidekicks, Rick Braun and Mindi Abair, always packing in the talent and melodies. From Braun's haunting and chiseled "The Little Drummer Boy", to Mindi's original "I Can't Wait For Christmas", there are new surprises and hints of traditional Peter White Christmas memories all over this recording. White's arrangements of "Greensleeves" is a staple in smooth jazz and it's married in this list beautifully with his also now sought-after arrangement of "Silent Night". In a new twist however, which is not heard live in his show, the irrepressible voice of Jeffrey Osborne rings clearly in "Silent Night". A wonderful vocal choice.

The band combines some of Peter's favorite backup band members, namely, Ron Reinhardt, Nate Phillips and Rayford Griffin often part of White's regular shows. A smattering of Brian Bromberg on bass in "Have Yourself a Merry Little Christmas" and the Braun original, "Jingle Jangle Blues" bring an originality to the recordings and a nice step off from the Christmas shows.

A highlight track in this writer's opinion is the pairing as in the live show, of John Lennon's memorable "Happy Christmas" with "Oh Holy Night" in a beautiful traditional arrangement composed by the trio of stars. Simple, melodious, heart wrenching...

Recommended playing of this album will put listeners in the mood for the incredible Christmas show, A Peter White Christmas which kicks off the last week of November and runs up to almost Christmas Eve. Check any of the artist's websites for tour information, or White's fan club website at www.peterwhitefanclub.com.
Enjoy the music, the season and thanks as Peter would say to Santa Claus!