Mindi Abair In Hi-Fi Stereo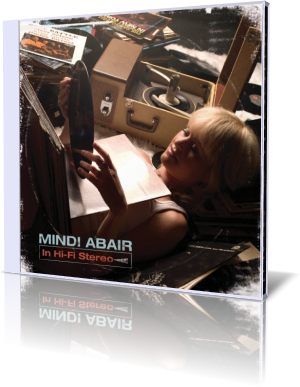 Mindi Abair was born into a musical family. Her father, Lance Abair, was a sax player too and her grandmother was an opera singer. She graduated at Berklee College of Music in Boston, Massachusetts, Magna Cum Laude with a degree in woodwind performance.
She build her career the stony way performing first in jazz clubs, restaurants and coffee shops. She was often told: "We don't need any more saxophone players, we have too many." Fortunately she was hired by Bobby Lyle and Jonathan Butler as a sideperson. That helped her to find connections to Rick Braun, Teena Marie, and Adam Sandler. A further step was the tour with the Backstreet Boys and her performances with Mandy Moore.
After her debut album It Just Happens That Way (2003) she released Come As You Are (2004), and Life Less Ordinary (2006) on GRP Records. Her next album Stars (2008) was released on Peak Records, a division of Concord Records. After the merger of Peak Records and Heads Up International her new album In Hi-Fi Stereo is scheduled for release on Heads Up May, 18.
Mindi comments her new album: "I think it all kind of seeped into me over time. I wanted to move away from a more produced sound and just get into the studio and play. It didn't have to be perfect. It didn't have to be shiny and new. It's not an intellectual record. It's a fun, feel-good record inspired by some of those great sounds and grooves from that period, but recast for a modern audience."
Any Way You Wanna has that unadorned attitude Mindi announces in her above cited reflection. Supported by a stomping beat Mindi blows the sax with her own lack of respect.
On All Star Mindi conjures the spirits of the Motown records time. "It has a really vintage sound to it – a mix of old Motown and maybe some classic Ramsey Lewis, like 'The In Crowd,'" she says. "You get into the song a little bit and it just turns into this big party. All of a sudden you want to jump up and down and put your hands in the air."
L'Espirit Nouveau is Mindi's homage to New Orleans keyboardist and composer Alain Toussaint. Ragtime piano, bass and sax, that is the atmosphere of these smoky jazz clubs in and around the French Quarter.
The appealing song Get Right features singer Ryan Collins. Rather unknown, this singer has a timbre, which perfectly fits to the song. This uplifting song has a big potential for a smooth jazz chart breaker and with the support of a good management even to the pop charts.
David Ryan Harris wrote Be Beautiful for his album Soulstice (2004). Mindi, a longtime friend of David, fall in love with this song and we have the luck to listen to a great duet between sax and vocals. Slowing down the tempo of the original gives this song the right groove.
Down For The Count offers some Funk in the style of Maceo Parker, a pleasurable platform for many sax players. Mindi's long time writing partner and producer Matthew Hager penned Girls' Night Out. Hager is an in-demand writer for James Taylor (Duran, Duran), Simply Red, Peter White, Mandy Moore and many others.
Let The Whole World Know (Sing Your Song) is title and encouragement. Mindi Abair has awesome vocals and thanks to the sound technique can share it with her emotional sax. Unfortunately she cannot operate the mouthpiece and sing simultaneously onstage, but she will certainly find a solution for that too.
When two girls put a James Brown song in her hands, the result is It's A Man's, Man's, Man's World. Famous Lalah Hathaway, daughter of the more famous Donny Hathaway, wraps the theme with her precious voice and Mindi provides the saxual refinement.
With Take Me Home Mindi digs deeper into the funky period of James Brown and Co. "This album is a reflection of some of the older, more soulful records I've been listening to in the last couple years," comments Abair.
The Alley, a romantic ballade, is the product of a creative process in the studio. Mindi and her band transfers their musical ideas into notes "in a spontaneous mutual effort".
Mindi Abair's In Hi-Fi Stereo is a little music wonder of diversity and understanding empathy. Mindi has inhaled the music of the golden age of R&B, Soul and Funk and the conclusion is something of such an intensity, that it could be easily grown from that glorious time.




Buy the album in all stores

Album Information

Title: In Hi-Fi Stereo
Artist: Mindi Abair
Year: 2010
Length: 0:48:20
Genre: General Jazz
Label: Heads Up
Notes: HUI-31837-02

Tracks:

01 Any Way You Wanna [4:53]
02 All Star [3:29]
03 L'Espirit Nouveau [4:26]
04 Get Right [3:25]
05 Be Beautiful [3:52]
06 Down For The Count [4:10]
07 Girls' Night Out [4:05]
08 Let The Whole World Know (Sing Your Song) [4:19]
09 It's A Man's, Man's, Man's World [6:10]
10 Take Me Home [4:41]
11 The Alley [4:51]