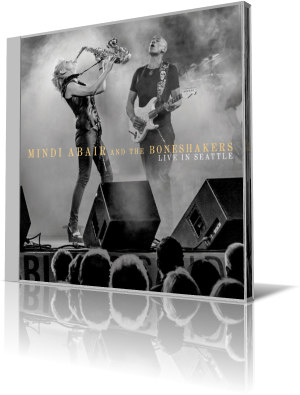 A desire to deviate from contemporary jazz – or pop instrumental, for the technical – and do something edgier, saxophonist Mindi Abair called upon a friend, Randy Jacobs, to join her live band. Jacobs' band, the Boneshakers, was playing the Newport Beach Jazz Festival on the same bill as Abair's band. Abair sat in with that group. And with some members of Abair's band performing with the Boneshakers, the combination became the natural next step. The result, Mindi Abair and the Boneshakers' Live in Seattle (Heads Up, 2015).

The event was captured over Valentine's Day weekend at Jazz Alley. The set includes a mix of original songs, some culled from Abair's previous seven recordings, and two covers.

After the introduction, Abair and company perform the title song of her previous release, Wild Heart. It's a moderately paced track that has a rock/funk edge. After going through the main theme and a middle break that includes some guitar magic, Abair lets loose, cranking up the intensity as she works up to the ending.

Abair uses her voice on "I Can't Lose." She sings with a sass one might expect from pop stars like Carrie Underwood and Pink. Then she delivers a brief, but screaming sax solo. "Can't you see that I'm armed to the teeth, got an ace up my sleeve," she sings as a warning that she means business.

Over her career as a leader, Abair has 10 Number 1 radio hits, six Top 5 spots and two Number 1 spots on the Billboard Contemporary Jazz album chart. She received a 2014 Grammy nomination in the Best Pop Instrumental category for Summer Horns, her collaboration with fellow saxophonists Dave Koz, Gerald Albright and Richard Elliot, and a 2015 Grammy nomination for Best Contemporary Instrumental Album for Wild Heart.

A thrilling drum solo introduces the hardcore, electric rendition of Gershwin's "Summertime." Abair makes the alto wail during the melody. The tone mellows briefly, but things heat up quickly when she stretches out. Jacobs follows with an electric guitar solo that begins softly but shifts to full-power, rock and blues mode. Then the band stops while Abair and Jacobs make one pass on the main melody. When the band resumes, Abair sticks with the melody while Jacobs switches from melody to fills and back. It's a stunning overall rendition.

Abair was featured saxophonist for the 2011 and 2012 seasons of American Idol. She jammed with Paul Shafer and the CBS Orchestra on Late Show with David Letterman and she toured with Aerosmith. She began playing saxophone at age 8 and took part in every available band program during elementary, middle and high school. After a year at the University of North Florida, Abair transferred to the Berklee College of Music, where she graduated magna cum laude with a degree in woodwind performance.