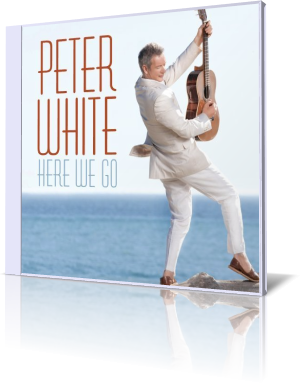 Peter White is a smooth jazz icon with an incredible radiance. He combines stunning stage presence with musical professionalism. Steadily he extends and cultivates his huge fan community with releases like Reveillez-Vous (Wake up). Excusez-Moi (1991), Promenade (1993), Reflections (1994), Caravan of Dreams (1996), Songs of the Season (1997), Perfect Moment (1998), Glow (2001), Confidential (2004), Playin' Favorites (2006), A Peter White Christmas (2007) and Good Day (2009).
Here We Go is his upcoming album on Heads Up International, a division of Concord Music Group. Peter's specialty is working on an emotional base. "When I start recording, I don't have a vision," White freely admits. "I just go with the moment – what feels good, what sounds good. The vision comes out of the music. The music doesn't come out of the vision."
Recording crew on Peter's new project are Philippe Saisse (piano, keyboards), David Sanborn, Andrew Neu, Mel Scott, Kirk Whalum (sax), Nate Phillips (Bass), Roberto Vally (upright bass), Gabriel the Gun (flugelhorn, trumpet), Charlotte White (violin), Ramon Yslas (percussion), Kiki Ebsen (vocals) and multi-instrumentalist, remixer, producer DC, with whom Peter collaborates since years.
"Anything that's really weird, you can attribute to DC – that's why I really love working with him. He'll come up with stuff that I never would have thought of. The stuff that I come up with is usually melodic", comments Peter shrouding the real name of this musician in mystery.
The opener Night After Night was unearthed by Peter out of his profound vaults. The Croatian Pro Tools wizard DC helped Peter to create something breathtaking new. Significant element is the particular rhythm with cap sound, which reminds me of the late George Jinda (Special EFX).
The romantic Time Never Sleeps was composed by Philippe Saisse and re-arranged with Peter to an intimate ballade. To the end Philippe flies of the handle and goes jazzy to my great pleasure. Peter composed the up-tempo title song with the intention to invite David Sanborn as lead sax player. The infectious song with a stomping beat will be certainly Peter's upcoming hit on many smooth jazz radio stations.
The combination of acoustic guitar and sitar on If Ever... conjures great pictures of fantasy. Is that a little wink to Pat Metheny? Peter White invites to a swaying waltz with Our Dance featuring Philippe Saisse on piano and Kirk Whalum on sax. White's soothing guitar melody embodies all of the qualities of a romantic guitarist.
Desert Night is a return to the Spanish guitar culture. Providing a great ambiance of romance is the result of his inspiring performance. The uplifting Joyride melts disco sound with smooth jazz and a pinch of Spanish Flamenco. This is really pure joy. Peter White has a special relationship with Costa Rica. Many fans will remember the trip to this fantastic venue listening to Peter's performance in a homely environment. Peter pays tribute to the last year trip with a wonderful song.

Peter White has dedicated My Lucky Day to Bob Marley. The reggae tinged song enthuses with a haunting melody. In particular, the accordion will increase the emotional touch of the acoustic guitar. Peter describes Requiem For A Princess as the saddest song, he ever has written. Peter wrote the song in memory of the late Princess Diana. If you can not be exempted from the sorrow, may help the next song Reunion and its soothing effect. Important thing is that we live in peace with oneself.
Thus proving Peter's album Here We Go as a comforter, entertainment or as something, what everyone wants to hear in his music. Is music not just created for this?