"Glow"
Peter White
Columbia, 2001
Release Date:

October 2, 2001
IT'S TIME TO "GLOW"
English born smooth jazz guitarist Peter White has given music lovers of all types a gift…his eighth solo album, destined without doubt to be chronicled as his best yet. "Glow" captures what has become many of White's trademarks, while demonstrating new sounds, beats and twists. His dedication to perfection took him back to the studio for mix after mix, once even after it was mastered. This album proves that when you search very deeply within yourself, new boundaries can be crossed that not only work, but can catapult you to levels of musicianship that reflect greatness.
Such is what has happened in this work, where White has risen to new heights, now more than ever as a composer. Having written nine of the eleven songs either solo or in collaboration with his some of his studio mainstays, with exceptional programming and production from Steve Dubin, Peter White now gives to his fans the music that most of us knew would come from him. If such a thing is possible after leaving his impressionable mark on his fans via his previous albums, what you will find in "Glow" is a compositional level that involves intricacies of sound, melody, rhythm, and dynamics brought together with the skill of a classical composer. From the very first song "Chasing The Dawn", it's evident.
Emotionally motivated by major life changes, most significantly the passing of his father last year and then becoming one, Peter White has now written and delivered music to us that allows listeners to "feel his own spirit" if you will. "Glow" has been in the works for a year and a half and precisely engineered and mixed, it is this work, performed for the most part by White alone in his studio that sets this album apart. He has brought forth a combination of Latin, Flamenco, funk, R&B and smooth jazz that work perfectly together. The Flamenco/Latin push of "Chasing" with the clear, accomplished technique of this musician takes you straight into the windmills of Don Quijote, White noting,"This was my Dad, always looking for something better". His cover of the Isley Brothers' "Who's That Lady?", featuring the sultry sax of Kirk Whalum is pure silk "Turn It Out", the album's first radio release couples the soulful and steady side of Peter White with the strong mix of Euge Groove's sax. The album's next track, "Bullseye" is lively, disco dancing worthy, underscoring some of his greatest musical influences, the music of the 70's. You'll hear Steve Cole here, touching in at just the right time and Tim Heintz lending skilled keyboard work. Calling on the sexy trumpeting style of Rick Braun, in "Just My Imagination" these two friends and collaborators make a song that we used to sing along to become special in the most gentle and melodic of ways. "Bueno Funk" is just that…good funk! Some very exact percussion work in this song, featuring Cole once again "painting" in his sax flurries with clarity and steadiness. In this writer's opinion however, it is the title track of this album, that is the centerpiece of this beautiful setting of musical moods.
"Glow", featuring the soft and alluring saxophone of another good friend, Dave Koz is a mini-vacation. Close your eyes when you listen and you'll be watching a sunset, sailing over an indigo blue ocean, looking up to the stars on a clear night or driving past your favorite vista in a convertible. Besides the absolute mastery of this com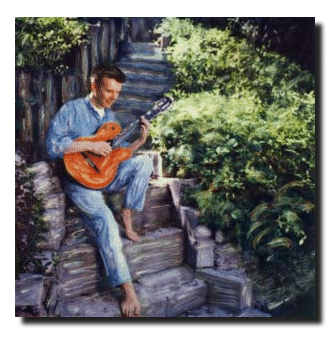 position, and the delicate touch of Peter White on his acoustic guitar, the song develops your visions as these two artists intertwine with their instruments. It is simply put…exquisite. Kick back to the Latin side with "Pedro Blanco", perfection played out once again ahead of this samba-based and percussion strong song. Reaching and tugging at your heartstrings, White delivers a solo effort on "When I'm Alone", written possibly as many as twenty years ago, which is melancholy, yet sweet. This is one hundred percent White instrumentally also where he delivers his keyboard finesse and a very inspirational guitar. It is this recorded version of the song that was played at his father's funeral, the song being a favorite of his Dad's.
Keeping to the wholesome and loving memory of his father, "Life Story" is celebratory of this great influence in White's life. Written to a bossa nova rhythm, again, the skill and touch of Peter White on the acoustic guitar and keyboards are most notable about this song. With a dreamy melody to go along, the orchestration is finished and classy and lends itself beautifully to the total piece. Finally, with "Baby Steps" innocence and new life prevail in this lyrical, sweet and "lilty" song co-penned with Rick Braun. Inspired by the first steps of Braun's baby girl, Emma, and entitled after White witnessed them in Braun's studio, the song highlights this guitarist delivering some Chet Atkins-type licks brightly and melodiously. Rick Braun's steady distant flugelhorn, and keyboards season it wonderfully and the most beautiful bridge at two minutes into this song that this writer has heard in years, seals the package…worth listening for.
If it was ever a good time to have this finest of music, the timing couldn't have been better. The title fits the mood of this album to a tee. Diverse, sophisticated, emotionally altering throughout, Peter White has delivered a jewel. The genius of this artist unfolds completely and this is what is musically spoken; he has come into his own and this gifted composer, consummate musician and genuinely nice guy has given us the chance to peek into his heart briefly, and glow.
© Joan Lynch