A Place In Time
Allon Sams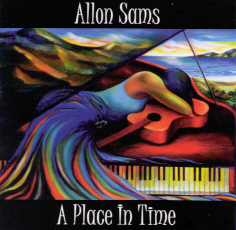 Blue Water Records, 2001
In a flurry of jazz that delivers a cross of funk, smooth and bebop to the jazz-lovers' dreams, Allon Sams in his second album, "A Place In Time" takes you to your own place, on your own time. It is a well skilled, immensely involved session of musical diversity that with jazz flavors, has you interested from start to finish! Sams has stretched his own musical prowess beyond expectation and coupled with the highly identifiable licks of Peter White, he's brought a hit album to fruition.
He jump-starts your listening enjoyment with "Back From The Beach", a high-powered and integrated song of toe-tapping fashion, demonstrating his strong keyboard technique and command of the instrument. This piece also features an outstanding electric guitar solo from John Mayeux, which then gets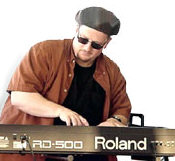 shadowed by Sams' magnificent keys and rocks you straight through! Definitely cruising music! In "Well Aware", Allon takes you dreaming as a distant, melodious and haunting melody opens the song coupled later with Caravaner Gene Cannon's strong Tenor and Alto Sax riffs, pure and exquisite! Centerpieces to this album are two songs that our own Peter White has touched, the first being "Time Alone". A memorable chorus in this offering is only further developed by the soft and lyrical melody perfected on Peter's guitar; classic PW sounds abound on this one where he opens with the "Al Greenish" styled notes that we've come to love. Bluesy, soft, swaying, the song is destined for greatness. The number will touch your deepest PW musical emotions and you'll end up with a feeling of gratitude for Sams' forethought in inviting White to lend a hand in this…it made a beautiful base melody heavenly! And later in the album, in "Feelin' It", a mix of smooth jazz and light funk, Sams has integrated just the right mix of instruments to highlight each of them (including the PW guitar) and yet stick to a lively melody with keyboard runs (and some nice guitar runs too) that cast a spell. Ah!
"The Sun Will Shine" another Sams creation is radio-quality with a
tune that sticks. Vocals accompany this piece and are delicately placed along with the keys and sung by Richard Jackson in uplifting fashion! Again…Gene, magnificent sax work! Creativity runs amuck in "Dusk to Dawn" when Sams with only a keyboard creates a mood of passion and ardor…a melody with a steady beat, intricate compositional design and craftsmanship in performance. "On The Town" is funky, jazzy, head-bobbing music..time to snap your fingers, while "Got My Jazz" involves precise drum work from Patrick Close, percussion artistry from Gig Brown and the steadiness of bassist Ruben Drake. Some Larry Carlton-styled guitar work from Les Sabler and Mayeux again set it off just right!
From the title cut (which is classical in nature )of this outstanding CD to the talents of Sams' regular band members, highlighted and amplified by the lyricism of Peter White, all eleven cuts are strong and sound. Sams has found his own place in time with this work and will be touring next year to promote it, especially on the West Coast, just shortly after national distribution. Don't miss the show and run, don't walk to buy this album. Purchasing information can be found on his website at www.allonsams.com.
© Joan Lynch
Allon Sams holds a special place in the hearts of Caravaners for his delivery to Peter of "Together Again" from Peter's hit album, "Caravan of Dreams". From the time Allon took his talents to Los Angeles writing commercial jingles, to working with Vanessa Williams, Michael Jackson, Tower of Power and Montell Jordan, on to the meeting of record producer Paul Brown, he has developed and enhanced himself to musical heights. Allon is a regular jazz club performer in the Tampa/Clearwater, FL area. Thanks for the beautiful music, Allon!