Peter White – Good Day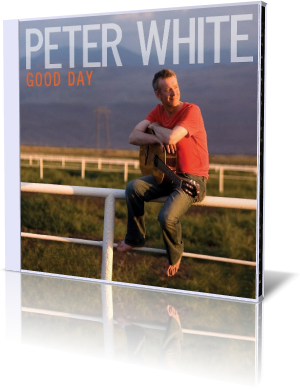 Peter White's first steps into music business were as a member of Al Stewart's band. Although engaged as a keyboardist he played a prominent role as guitarist on Stewart's mega hit Year Of The Cat. Peter also played guitar on some of Matt Bianco's releases. Danny White and Basia are the members of this group.
He started his solo career with the 1990 release of Reveillez-Vous (Wake up). Excusez-Moi (1991), Promenade (1993) and Reflections (1994) followed on Sindrome, Caravan of Dreams on Columbia (1996), Songs of the Season (1997), Perfect Moment (1998), Glow (2001), Confidential (2004), Playin' Favorites (2006) and A Peter White Christmas (2007) on Sony Music. Good Day (2009) is his first album on Peak Records, a division of Concord Music Group.
Peter comments his new album: "I just started going through my backlog of material – songs that I'd never finished, some going as far back as ten or fifteen years – and I discovered that I had a lot of gems that I really wanted to show to the world. I wanted to record them in my own time and in my own way, without any outside influence or interference."

The album was produced by Peter White and DC and co-produced by Philippe Saisse. The starting tune Good Day features Philippe Saisse on keyboards and vibraphone. A romantic song capturing the spirit of Peter's acoustic guitar. A novelty on a Peter White album is the stake of a vibraphone. "It's something I've never put on a record before, but I try to do something on every album that's a little different," explains Peter.
Peter White's affinity for sensual melodies shines on Always And Forever. He keeps the song simple but always captivating. The dynamic rises with Saisse's additional string arrangement, the melody all the time in view.
My favorite is Just Give Me A Chance, an uplifting melody like an encapsulated sunshine. Saisse adds a perfect horn arrangement performed by Shannon Kennedy (sax, flute) and Dan Savant (trumpet, flugelhorn).
Love Will Find You features Danny White and Basia, better known as Matt Bianco. Originally written by Peter's brother Peter re-arranged the song in a more instrumental style taking the guitar as lead. "I basically took the song that she and Danny wrote, chopped it up, took her scat part – which she sings at the beginning and at the very end in the original version – and put it into the middle of the song as well," Peter says. "I use it as a hook throughout the song. I just thought it was cool that we could collaborate like this and come up with two versions of the same song."
(Un)Forgiven was penned by David "Kokoki" Kochanski, a brilliant musician who toured the world with countless others such as Britney Spears and Jessica Simpson, and also performed with Chaka Khan, George Duke, James Ingram and more. David validates his high potential on this great impressive song.
On Temptation Peter creates a magical guitar dream perfectly underlined with Saisse's orchestral string background. Mission 2 Mars is a new level in the collaboration between Peter and Philippe Saisse. While Peter follows the acoustic guitar path, Philippe adds electronic novelties lending the song a hooking dynamic.
Bright is dedicated to the late bassist Wayman Tisdale, Peter's musical companion onstage for some years. "The guy was always so happy, so positive, always had a smile, always made you feel great," says White. "Even before his death, I'd always called this song 'Bright,' because it sounded uplifting and happy and funny. Then I realized that it would be the perfect song to dedicate to Wayman, because that was the way he came across to the world."
Ramon's Revenge is Peter's return to the Flamenco realm. Peter has an own imagination which he combines with this song, a tale of two rival Spaniards vying for the affections of the same woman: "In the end, I imagine Ramon riding away on his horse with his girl, who has come back to him after leaving his rival in the dust."
The sentimental ballade Say Goodnight is Peter's homage to his longtime friend and band mate Al Stewart. Peter remembers: "We would end the show with just him and me playing the guitar after the rest of the band had left the stage. He'd say to the crowd, 'Say goodnight to Peter White,' and I would leave the stage for him to finish the show. The phrase has always stuck with me in the years since."
We experience a Peter White, who is matured in music business. Good Day mirrors the wisdom of a guitar genius bringing emotion to every note. So try to attend his next event and holler and applaud him. He deserves it each time.




Album Information

Title: Good Day
Artist: Peter White
Year: 2009
Length: 0:51:13
Genre: General Jazz
Label: Concord Music Group


Tracks:

01 Good Day [5:57]
02 Always And Forever [5:09]
03 Just Give Me A Chance [4:40]
04 Love Will Find You [3:19]
05 (Un)Forgiven [5:19]
06 Temptation [6:19]
07 Mission 2 Mars [5:47]
08 Bright [4:09]
09 Ramon's Revenge [6:56]
10 Say Goodnight [3:38]




Further reviews