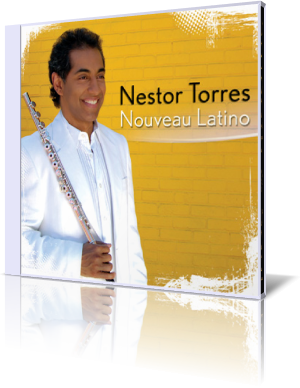 How can I catch the sunshine in notes? Nestor Torres found the answer with Nouveau Latino. Nestor is back to the roots and to the Latin style of his previous albums This Side Of Paradise (2001) and Mi Alma Latina - My Latin Soul (2002). This album is a reverence to the music from the 60s through the 80s including Latin jazz standards. With respect for the originals and a fresh contemporary approach Nestor anew reveals his own class of a flutist.
Consistently Nestor Torres had been nominated for a 2009 Latin Grammy for his album Nouveau Latino in the Latin Jazz category. Nestor Torres is supported by Milton Salcedo (piano, keyboards), Richard Bravo (percussion), Tommy Ruiz (trombones, vocals), Jerry Bravo (bass), Siman Char (piano), Manolo Rodriguez (timbales, güiro), Gerardo Rojas (alto sax), Felipe Fournier (vibes), Alexander Ayala (bass), Savier Diaz (congas), Reynaldo Burgos (piano), Jerry Medina (trumpet), Francisco Arocho (trombone), Ruben Benitez (cowbell), Juan Manuel Leguizamon (vocals), Alexandra Alban (vocals, quinto, percussion), Muriel Reinoso (violins), and Diego Camacho (timbales, bongos).
Rhythm is a great factor of this album embracing Latin styles like Cuban dance music, Puerto Rican bomba and plena, the Brazilian samba, merengue from the Dominican Republic, Colombia cumbia and the rhythms of Panama. All styles come together in the boiling pandemonium of New York's salsa and jazz scene, Nestor's second home. But he didn't forget his origins. Hailing from Puerto Rico. Torres recorded half of his album with talented musicians in Puerto Rico. "To record live, and to do so in Puerto Rico, is a real homecoming for me," he comments. "It was like it used to be, when everybody recorded at the same time, before ProTools. But, we also kept the production state of the art, using the latest technology to create music that moves forward, pointing the way to a future where that which is universal transcends today's tendency to taste the 'flavor of the minute'."
The first song on this album entitled Quimbara, is a Cuban Rumba originally performed by Celia Cruz with Johnny Pacheco in 1974 on the legendary festival in Zaire and later released on numerous albums of that Cuban salsa singer. Nestor Torres' rendition transfers the vocal lead to the flute in a more than brilliant way.
Keyboardist, arranger, and composer Hector Rivera is known by his crossover style between jazz, Latin dance-pop and contemporary soul-funk. He composed the instrumental song Petite in 1961, which became a big hit by Joe Cuba and his Sextet in 1966 under the title Mujer Divina on the album Bang! Bang! Push, Push, Push. Nestor perfectly melts the historic version with his own contemporary style. Bravo!
Isla Del Encanto, which translated means "The Island of Enchantment", is dedicated to the island Puerto Rico. Originally the song was performed by Orquesta Broadway, a charanga band combining violins with leader Eddy Zervigon's flute. Nestor Torres ignites a firework of Latin Salsa on his fantastic version.
Cocinando, a Latin jazz standard by the Latin jazz master and conga player Ray Barretto, reminds me of Carlos Santana's Oye Como Va. This tune was recorded live in Puerto Rico with great solos on vibe, flute and all sort of percussions from timbales to congas.
C.P. is the Latin jazz fusion tune par excellence. It's a great pleasure to dive into the complex structure of this piece. The tune was composed by the blessed keyboardist Clare Fischer. Daniel Cytrynowicz comments his work: ""He is one of those rare musicians who truly understands music, not only with his mind but first and most importantly with his heart and soul. His music never stops evolving."
Nestor Torres is born in Mayaguez. Another citizen of this Puerto Rican town is the composer Mon Rivera, aka Monserrate Rivera Alers or Don Mon, who gained a strong reputation as a composer of plenas, a musical genre considered the "musical newspaper of the barrio". Karakatiskis is a plena, a Puerto Rican rhythm featuring Nestor's flute not only as a melodious but also as a pulse element.
Nestor comments El Ratón: "Although this is the title that appears on the CD credits, the song uses only the introduction's riff and chorus (hook) of Cheo Feliciano's composition. My version of El Raton is an urban tale with my lyrics (and an additional 'coro' or hook by Ramon Martinez) and my flow in which I reveal my true identity as The Pied Piper Of Hamelin." Indeed this tune is a break to the previous style. Modern, contemporary but still unique and typical Nestor Torres.
Soñando con Puerto Rico was composed by the popular Latin vocalist Bobby Capo. This cover presents flute, bass, and 3 conga drums played by two percussionists. Rhythm pure. Excelente!
Salsa pioneer Willie Colon performed Omar Alfanno's controversial song about a father and his transvestite son entitled El Gran Varón. A song full of joy and sadness, a song about Aids and the by this disease caused isolation of homophobia and stigmatization. A song which was and is necessary.
Pablo Pueblo is a contemplative masterwork by Ruben Blades, who is often referred to as the Latin Bruce Springsteen. This song was originally released on Willie Colón's album Metiendo Mano! (1977), Ruben's first collaboration with Colon. Nestor was inspired by the instrumental version, he found on Ruben's website. One cannot believe that both versions are the same song.
Puerto Rican Latin jazz pioneer and pianist Noro Morales composed María Cervantes (Suite). Milton Salcedo arranged the piece in a new version and shines on piano. Classic, jazz and Salsa elements are making this piece to a great final with an outstanding Nestor Torres.
For those, who aren't familiar with the music of Nestor Torres and Latin music, Nouveau Latino is the ultimate appetizer. Para los amantes de la salsa, ya sabes lo que va de él.



Buy the album in all stores


Album Information


Title: Nouveau Latino
Artist: Néstor Torres
Year: 2009
Length: 1:10:36
Genre: General Latin
Label: Diamon Light Records


Tracks:

01 Quimbara [4:16]
02 Petite (Mujer Divina) [5:40]
03 Isla Del Encanto [6:25]
04 Cocinando [9:53]
05 C.P. [4:48]
06 Karakatiskis [5:03]
07 El Ratón [4:04]
08 Soñando con Puerto Rico [6:19]
09 El Gran Varón [6:16]
10 Pablo Pueblo [7:24]
11 María Cervantes (Suite) [10:28]



More reviews:
Sin Palabras

Dances, Prayers & Mediation For Peace