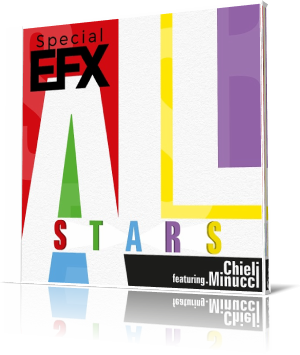 Special EFX was originally founded by drummer and percussionist George Jinda and guitarist Chieli Minucci in 1982. The musical concept of the group changed from world fusion to contemporary jazz and smooth jazz. After the 22nd Special EFX album Deep As The Night (2017), released on the Trippin 'N' Rhythm record label the group returns with the new album All Stars (2020) on the same label.
The new album features Chieli Minucci on guitars, keyboards, beats, accompanied by Steve Adelson (Chapman Stick), Joel Rosenblatt, Lionel Cordew (drums), Jerry Brooks, Gerald Veasley (bass), Fernando Saunders (fretless bass), David Mann (saxophone, flute, horn arrangements), Nelson Rangell (saxophone, flute), Eric Marienthal (saxophone), Jay Rowe, Lao Tizer (acoustic grand piano, keyboards), Maysa Leak (vocals), Regina Carter, Antoine Silverman (violin), Lin Rountree, Tatum Greenblatt (trumpet, flugelhorn), Mino Cinélu (percussion), and Mike Davis (trombone).
The music was composed, produced and arranged by Chieli Minucci except Little Wing, composed by Jimi Hendrix. The album is opened with Mr. Marzipan. Although marzipan in itself is a sweet and soft substrate, this piece is characterized by a tight horn arrangement into which Chieli pushes his guitar staccato-like.
On Sunset Passion Juice Chieli is joined by David Mann in the creation of the ultimate acoustic candy. Hanky Panky Boys, the first single release, brings us back down to earth. Key ingredients are organ, a big bunch of horns and some strong guitar riffs. Eric Marienthal shows in his solo why he is called one of the best saxophonists of contemporary jazz.
The blues-inspired ballad Little Wing was written by Jimi Hendrix in 1967 who ingeniously fused voice and guitar into a creative unity. This cover splits the music into parts shared by vocalist Maysa, guitarist Chieli and saxophonist Nelson Rangell. Empathy is the ability to share the feelings of another, a quality that characterizes our humanity. This tune has the emotional intensity to set the human soul in vibrations.
Two Dancing is predestined to serve as the musical basis for a good tempered dance. It is no coincidence that this effect is further enhanced by the two violinists Regina Carter and Antoine Silverman. Arise is a short interlude that touches the soul through the moving interplay of piano, violin and guitar.
Wake Up is a pulsating groove which, with Chieli Minuci on guitar and Neslon Rangell on saxophone, brings two trump cards into play. Sweet Memories of You is a lyrical interplay featuring Chieli on nylon electric guitar. A tribute to his mom, who passed away in the time, when he wrote the song.

Kampala was written on a borrowed acoustic guitar in a Ugandan hotel room during a concert tour. Isn't this the best way to process the impressions gained during the tour? Remarkably, two pianists, Jay Rowe and Lao Tizer, are engaged for this piece, which in its dynamics is strongly reminiscent of Pat Metheny's older style.
Great Escape is a piece structured in two parts, the first a short introduction, the second the main theme. With this piece Chieli goes back to the time when epic themes dominated the music market and also influenced his musical understanding. Flows Like Water has a jazzier approach and is at the same time also a yardstick of the technical progress that the group has undergone during the period of their interaction.
One Stick and A Stone is a collaboration of Chieli and Steve Adelson who plays the Chapman Stick. This twelve-string instrument was invented by Emmett Chapman in the early seventies. Chieli uses as beats the speaking drums, known by late partner George Jinda in the early time of Special EFX and on his own albums George Jinda and World News.
The new album All Stars by Special EFX covers the whole range of creativity of Chieli Minucci's band. As different as musical tastes may be, there is a multitude of connections for everyone, with which the listener can identify. A grandiose project and piece of contemporary jazz history.