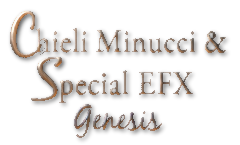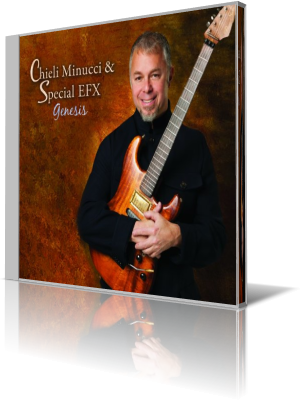 Chieli Minucci and George Jinda founded in 1983 the band Special EFX. They were one of those bands that defined the concept of contemporary jazz with their music. In 2001 Jinda passed away and Minucci continued the formation with Jinda's previously issued permission.
Since then Special EFX released Butterfly (2001), Party (2003), Without You (2010) and this year Genesis. Chieli Minucci confides, "It is my hope that when people hear Genesis that they will enjoy it and be able to relate to it in some way. I hope they are moved and are able feel what I felt as I wrote these songs."
Minucci is supported by Jerry Brooks (bass), Lionel Cordew (drums), Jay Rowe (keys), and the guest musicians Mino Cinelu (percussion), Omar Hakim (drums), Lao Tizer (piano), Karen Briggs (violin), David Mann (sax, flute), Xu Feiyu and Vic Starsky (vocals) on selected tracks.
With the starting tune Crazy Eights the band present a modern style, reflecting the spirit of the times. A precise and fast pace that learns through the use of saxophone and guitar its acceleration. Now, speed is not everything. The group takes account of with the jazzy Till The End Of Time and the melodious ballad Mirage. With the term Blue Lagoon, the band combines a pictorial aesthetic.
Songs like Far Away amaze due to their Pop structure, which probably is owed to the request of commercial success. So It Begins ties in seamlessly with Seduction. A piece in the spirit of Mark Knopfler's guitar art. Calico provides holiday mood with Caribbean flavored sequences. With Genesis Minucci enters the room of atmospheric guitar sounds.
On The Haunting Karen Briggs gives with her ​​violin the melody its particular character. A piece of world music with an exotic statement. Minucci's inclination to the Classic Rock of the 80's is considerable with Your Smile, My Heaven. In stark contrast to this is the smooth jazz piece Club JZ featuring saxophonist David Mann. The album ends with the gentle ballad Wishing (Wishing, Pirouette, Pas Des Deux) presenting the lovely vocals of Xu Feiyu and Vic Starsky sweetly played around by Minucci's acoustic guitar.
Especially in the second half of the album, Minucci stands apart from the contemporary jazz, as you can hear it everywhere. A bold undertaking.




Biography

Website


Buy the album in all stores

Album Information

Title: Genesis
Artist: Chieli Minucci & Special EFX
Year: 2013
Length: 1:05:18
Genre: General Jazz
Label: Shanachie Entertainment

Tracks:

01 Crazy Eights [3:49]
02 Till The End Of Time [5:24]
03 Mirage [4:29]
04 Blue Lagoon [4:09]
05 Far Away [4:29]
06 So It Begins [4:38]
07 Calico [5:54]
08 Genesis [3:51]
09 The Haunting [9:13]
10 Your Smile, My Heaven [7:25]
11 Club JZ [4:04]
12 Wishing (Wishing, Pirouette, Pas Des Deux) [7:53]