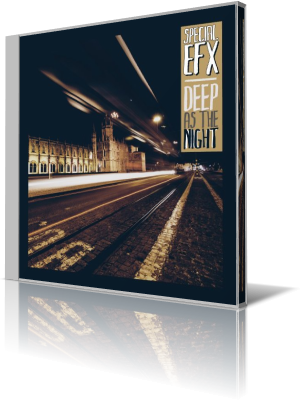 A formation with long-lasting tradition. Special EFX was founded by drummer and percussionist George Jinda and guitarist Chieli Minucci in 1982. The musical concept of the group changed from world fusion to contemporary jazz and smooth jazz. Body Language (1995) was the last album Jinda and Minucci recorded together. In 1997, Jinda had just completed the album Here to Stay, he suffered a massive stroke, from which he never recovered until he died in 2001.
Chieli Minucci continues the project in memory of his former teammate with the 22nd Special EFX album Deep As The Night (2017), which will be released on the Trippin 'N' Rhythm record label. The new album features a cast of musicians, who are sharing Chieli's musical activities, like bassist Jerry Brooks, drummer Lionel Cordew, keyboardists Jay Rowe, Nicholas Cole and Lao Tizer, percussionist Mino Cinelu, violinist Antoine Silverman, saxophonists Elan Trotman and David Mann.
The title song starts the set with guitarist Minucci and saxophonist Mann united in the creation of an eclectic work of harmony. Another Day, Another Smile shines with a wonderful sonic bliss of acoustic structure. The special nearness between Chieli's guitar and Antoine's violin is somewhat rare in the more traditional world of smooth jazz. A combination, aficionados of such music tend to expect in the music of Django Reinhardt.
The Spanish flavored Lavish is currently on heavy rotation at many radio stations. The nice freshness of the song is produced by Nicholas Cole on keyboards, Elan Trotman on sax and for sure by Chieli's sublime guitar chords. For the fans of the authentic country music Chieli has drawn with Dance On the Delta a joker in the person of Antoine Silverman on violin.
With Across the Seven Seas Chieli offers a sonic alchemy of body percussion, handclapping, humming along guitar music boasting into an amazing sound of romantic wonder world. On Night Shift Chieli shows his supreme qualities as composer and multi-instrumentalist in a one-man-band project. When much dedication, passion and exercises are gone into one piece, you call it like your personal place of desire, Garden of Eden. A solid treat for the ears.
On You Were the One Chieli brings the pleasure of cozy warmth and eloquent romance to a new high level. If you are on search for the next wedding theme, this is probably the best suggestion. With a charming guitar performance Never Ending Love reaches brain and heart of the audience. Melancholy, nostalgia and elegance are merging into the perfect guitar notes.
Beautiful Gold bleeds chemistry and cohesiveness and combines the spirit of guitar intensity merging with the incredible intense sax of David Mann. With engaging aesthetics Chieli celebrates the final tunes Mother of Pearl and Endless Us. Not trendy hipness is in the foreground but timeless melodies performed with an astounding attention to detail. Majestic and noblesse transcend the music lines.
From a purely conceptual perspective Chieli Minucci picks up on Deep As The Night his earlier styles of melodic fusion music with his own unique and unmistakable smartness, his distinctive artistic signature sound.