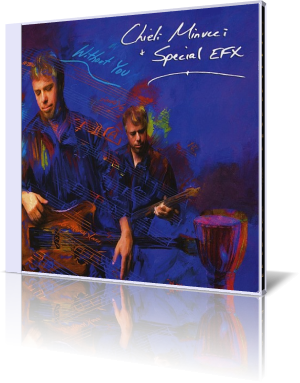 Special EFX entered the jazz scene in the 1980s, created by guitarist Chieli Minucci and the now-deceased George Jinda. Since then, the Grammy-nominated group has recorded 26 CDs, with eight solo releases by Minucci. Without You (Chieli Music, 2010) presents a diverse collection of favorites by the original Special EFX lineup of favorites.

With Minucci are Jeff Brooks on bass, Lionel Cordew on drums, Jay Rowe on acoustic grand piano and Rhodes, and Philip Hamilton on percussion and vocals.

"You Make Me Blue" opens with a tranquil, almost haunting quality. But it quickly kicks into a more rhythmic, and slightly funky groove. Minucci's layered guitar harmonies are the song's central focus, but pay attention to Brooks' cool bass line. Alan Grubner helps out on violin, including an ad-lib on the fade. This song appeared on the Special EFX landscape in 1992, when the group began experimenting with R&B-style jazz, better known as smooth jazz.

Hamilton sings lead on the soothing, though melancholy, "Love's Lost in Translation." His rapid-fire enunciation and smooth shifting from soft to amplified demonstrate his skill and emotional range. Minucci's middle solo is ethereal. After the break, the background intensity heats up, particularly on drums, building up to a more lively guitar lead. Hamilton presents some Jarreau-like qualities. Overall, the song has a Brazilian feel to it.

"The Night Is Ours" is a cool, fusion track – mostly instrumental, with Hamilton performing a wordless chant. The song goes through several stages, seeming to cross genres from Latin to smooth jazz to rock. All five musicians are equal partners, with everyone contributing significantly to the overall vibe. Regardless of whether guitar or piano has the lead, bass, drums and percussion are ever-present. And there are stretches where Cordew and Hamilton appear to be taking over, though Minucci or Rowe is out front. This song appeared on the group's debut release as "Sambuca Nights." New material was added over the course of concert tours between 1985 and 1988. The 2011 version is completely rewritten, retaining just a dose of the original melody at the midway point.

Guests who appear on selected tracks are bassist Gianluca Minucci, pianist Lao Tizer, violinists Karen Briggs and Jan Grubner, keyboardist Jeff Lorber, vocalist Will Brock and bassist Dave Anderson. The ensemble increases the range of sounds when needed, but the unity of Special EFX, combined with solid songwriting, is what makes Without You a keeper. The main CD has 16 total tracks, a few of them being brief interludes. The bonus CD has six tracks, including a longer version of "Love's Lost in Translation." An accompanying booklet breaks down the lineup of each song and includes the Special EFX story.