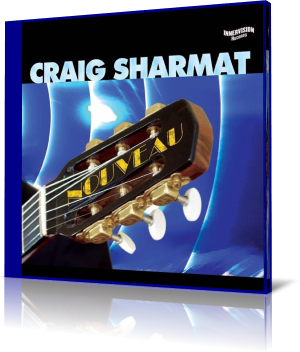 Guitarist Craig Sharmat is a great number in the area of film and television music. His compositional field of activity extends to trailers for films such as King Kong, Ghost Rider, Eragon, Anchorman or TV series like CSI Miami. His scoring work he is mostly known for are America's Most Wanted, Alone, Who the Bleep Did I Marry and a host of other shows. More than his second mainstay, rather his passion is his career as a solo musician.
After his debut album So Cal Drivin (2009) he released Outside In (2010) and Blue Horizons (2013). What lasts long will finally be good with Nouveau (2019), the aptly title of his new album. While his earlier albums reflect more on smooth jazz themes, and his album Blue Horizons traveled the world, Craig now reveals his pronounced tendency for Django Reinhardt's heritage. Django was a Belgian-born Romani-French jazz guitarist and composer, regarded as one of the greatest musicians of the twentieth century.
In creating his new album, Craig relies on the collaboration of proven professional musicians from the Californian scene, such as Greg Manning, Brian Mann (keyboards), Hussain Jiffry, Kim Collins (bass), Eric Valentine, Rayford Griffin (drums), Mark Hollingsworth (sax), Chris Tedesco (trumpet), and George Quirin (flamenco guitar). Ludovic Beier (accordina) is from France, and Christiaan Van Hemert (viola, violins) from The Netherlands, Nick Coventry (violin) lives in Tucson, AZ. Craig comments: "I wanted influence from players outside of So California as Gypsy Jazz was created in Europe and filtered back to the United States."
The style of this album is also the result of Craig's activities in his new formation The Idiomatiques (Kim Collins, Brian Mann, George Quirin). Craig elucidates: "As a media composer and Groove Jazz guitarist it has been an enlightening journey entering a genre, Gypsy Jazz, where none of that really mattered. You can be a world class groove player but if you don't have proper technique and tone production in Gypsy Jazz, everyone who is involved in that encompassing genre will know. My eventual goal was to learn to play Gypsy Jazz well enough that I could hang with really good players in that field, and fuse it with my past abilities and come up with my own sound and vision."
Of course Django Reinhardt was tied up in the style of his epoch, which he combined with his gypsy music. Groove En Minuer gives an impression of how the music sounds when Django meets contemporary jazz music. The timbre of Craig's guitar shows an amazing similarity to Django's guitar, which was a Selmer acoustic guitar built by the Italian guitar builder Mario Maccaferri. Craig comments: "Mostly I used a Dupont VRB with Argentine strings on the Django written arrangements. I played a vintage Couesnon on "Swing This" and "Cutie Pie". While Django played the original in a typical Gypsy swing, Craig combines on his rendition elements of smooth jazz and Bossa Nova.
Line It Up can be understood as a bluesy smooth jazz counterweight that contains strong brass elements and arrangements reminiscent of Greg Adams East Bay Soul. Django recorded Melodie au Crepuscule for the first time in July 1943. Craig combines his guitar performance with a string and flute arrangement that transpires the homeliness of the old days.
Place De Brouckere is a place in the center of Brussels, the capital city of Belgium. Django recorded the song in 1942 in collaboration with an orchestra. Craig chooses another variant, which was also typical for Django, namely the accompaniment by a violinist, here Nick Coventry. Craig's own composition Get Your Django On is more than an attractive tune with excellent contributions by guitarist Craig and pianist Greg Manning.
Indifference is an accordion waltz created by A. Murena and J. Colombo in 1942. Craig captures the original atmosphere by changing little in the arrangement of the piece and making only minor changes to the instrumental structure. Coquette was a song by John W. Green and Carmen Lombardo created in 1928. Craig completely re-arranged the tune donating a prominent role to Greg Manning on organ.
On Rio Lullaby, Craig's true nature as a film music maker shines through. Ludovic Beier on accordina and Craig on guitar are creating the magic. The accordina is a musical instrument with wind and free reeds like the accordion or the harmonica. Cutie Pie is inspired by Django Reinhardt but Craig's very own composition. Arpeggios and scales are the dominant stylistic devices of Gypsy Jazz, to which bassist Kim Collins, violinist Christiaan Van Hemert and Craig have dedicated themselves.
Swing This is Craig's ingenious attempt to combine elements of Gypsy Jazz with modern dance elements. Setting Out Alone is an enchanting conclusion to the album.
Craig currently concentrates his energy to perform with The Idiomatiques. So you have a good chance to experience this impressive album in the spirit of Django Reinhardt under live condition. For those who aren't living in L.A. or Santa Barbara Nouveau should be the ideal replacement.





Buy the album in all stores



Album Information



Title: Nouveau
Artist: Craig Sharmat
Year: 2019
Genre: Smooth Jazz
Label: Independent

Tracks:

1 Groove En Minuer 4:08
2 Line It Up 4:09
3 Melodie Au Crepuscule 3:55
4 Place De Brouckere 4:26
5 Get Your Django On 4:25
6 Indifference 3:42
7 Coquette 4:22
8 Rio Lullaby 4:03
9 Cutie Pie 2:22
10 Swing This 3:47
11 Setting out Alone 4:08

Further reviews: